LGBTQ+ History | BIG History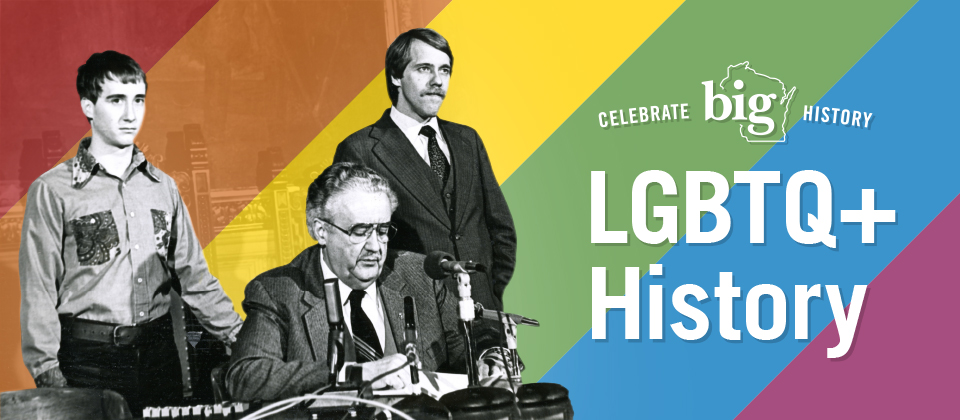 LGBTQ+ history in Wisconsin
The history of the LBGTQ+ community in Wisconsin is extraordinary, despite being largely untold. While the focus on the gay liberation movement is focused predominantly on America's coasts, real progress was made right here in the Badger State. In 1966, Wisconsin had the first public call by a political body for abolition of restrictions against queer people so they could have "freedom of action." Before Harvey Milk was elected to the San Francisco Board of Supervisors in 1977, Midwest cities including Madison had openly gay elected officials. In 1982, Wisconsin became the first state to enact a gay rights law prohibiting discrimination in employment, housing, and public accommodations on the basis of sexual orientation. Wisconsin was also the first state to elect three openly gay/lesbian persons to Congress: Steve Gunderson, Tammy Baldwin, and Mark Pocan. Learn more about the history of the queer community through articles, artifacts, and other important items below that help tell their story.

We Will Always Be Here: Wisconsin's LGBTQ+ Historymakers
A Traveling Display
NOW AVAILABLE! Explore the stories of Wisconsin's LGBTQ+ historymakers through profiles of eight individuals across a wide spectrum of identities who have helped to empower others to make a positive change in the world. Meet some of our LGBTQ+ visionaries, changemakers, and storytellers as invisioned by artist nipinet landsem.
Artwork for the exhibit is the creation of nipinet landsem, an Indigequeer Anishinaabe and Michif artist currently based in Teejop (Madison, WI.) They are a descendant of the Turtle Mountain Band of Chippewa.
Learn More
View a traveling display near you!
Visit the Pop-Up Display and
Experience This History
May 29
- Jun 25Dunn County Historical Society
Menominee
Jun 4
- Jul 1Vernon County Museum
Viroqua
Jul 7
- Aug 4UW Milwaukee Libraries
Milwaukee
Jul 31 - Aug 27McMillan Memorial Library
Wisconsin Rapids
Aug 10 - Sep 30Douglas County Historical Society
Superior
Sep 1
- Sep 25Monona Public Library
Monona
Sep 4
- Oct 1NE Wisconsin Technical College
Green Bay
Oct 2
- Oct 15Unity Project
Fort Atkinson
Nov 1
- Nov 14Aram Public Library
Delavan
For details and future dates, visit our events page

Pssst! You might recognize some of the people illustrated above in the photographs below, see if you can find them!
Celebrate Wisconsin's LGBTQ+ Community
Wisconsin's Gay History | Book Series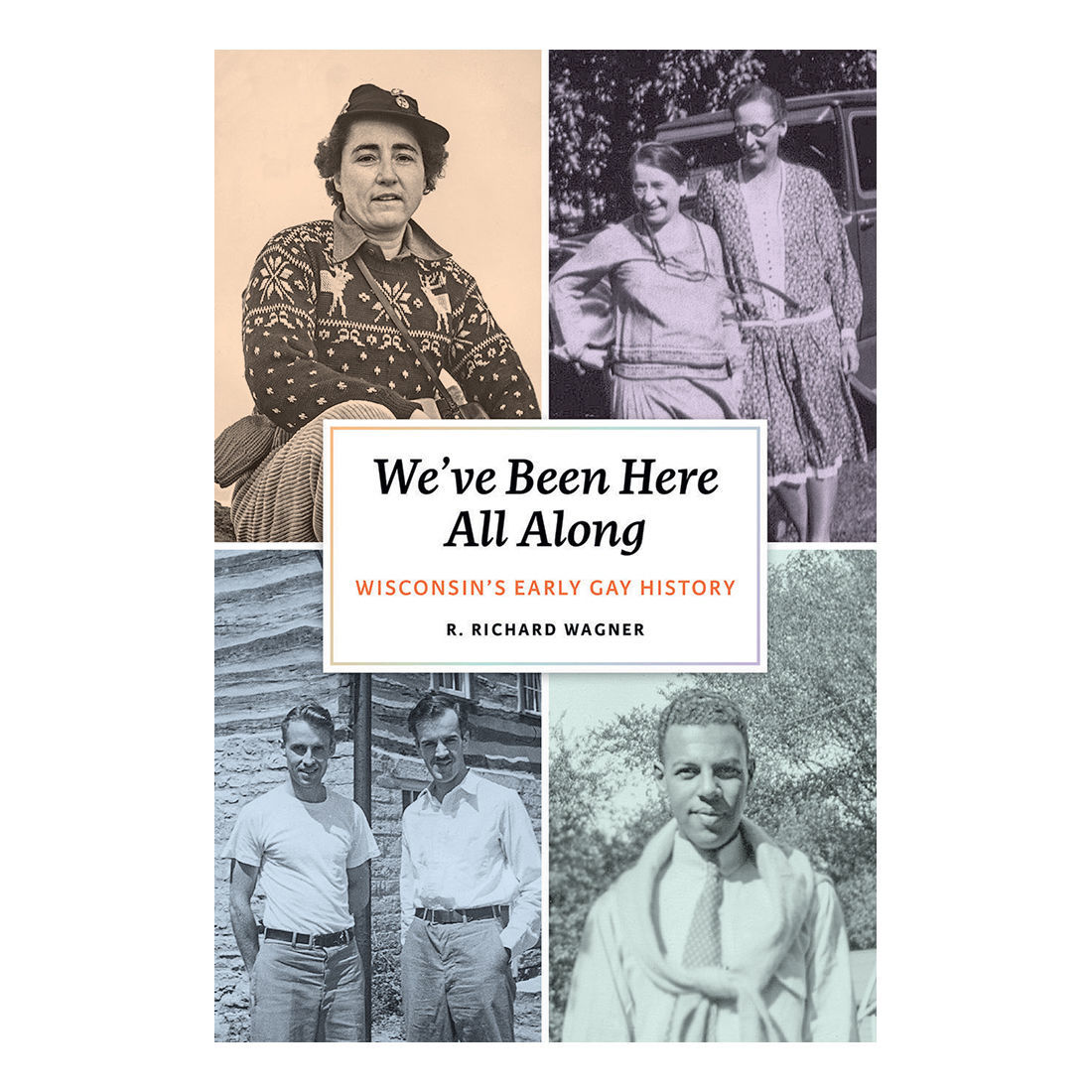 R. Richard Wagner draws on historical research and materials from his own extensive archive to uncover previously hidden stories of gay Wisconsinites. This book, published by the Wisconsin Historical Society Press honors the legacy and confirms that gay Wisconsinites have been fundamental to the development and evolution of the state since its earliest days. Read Free Excerpt
Buy the Book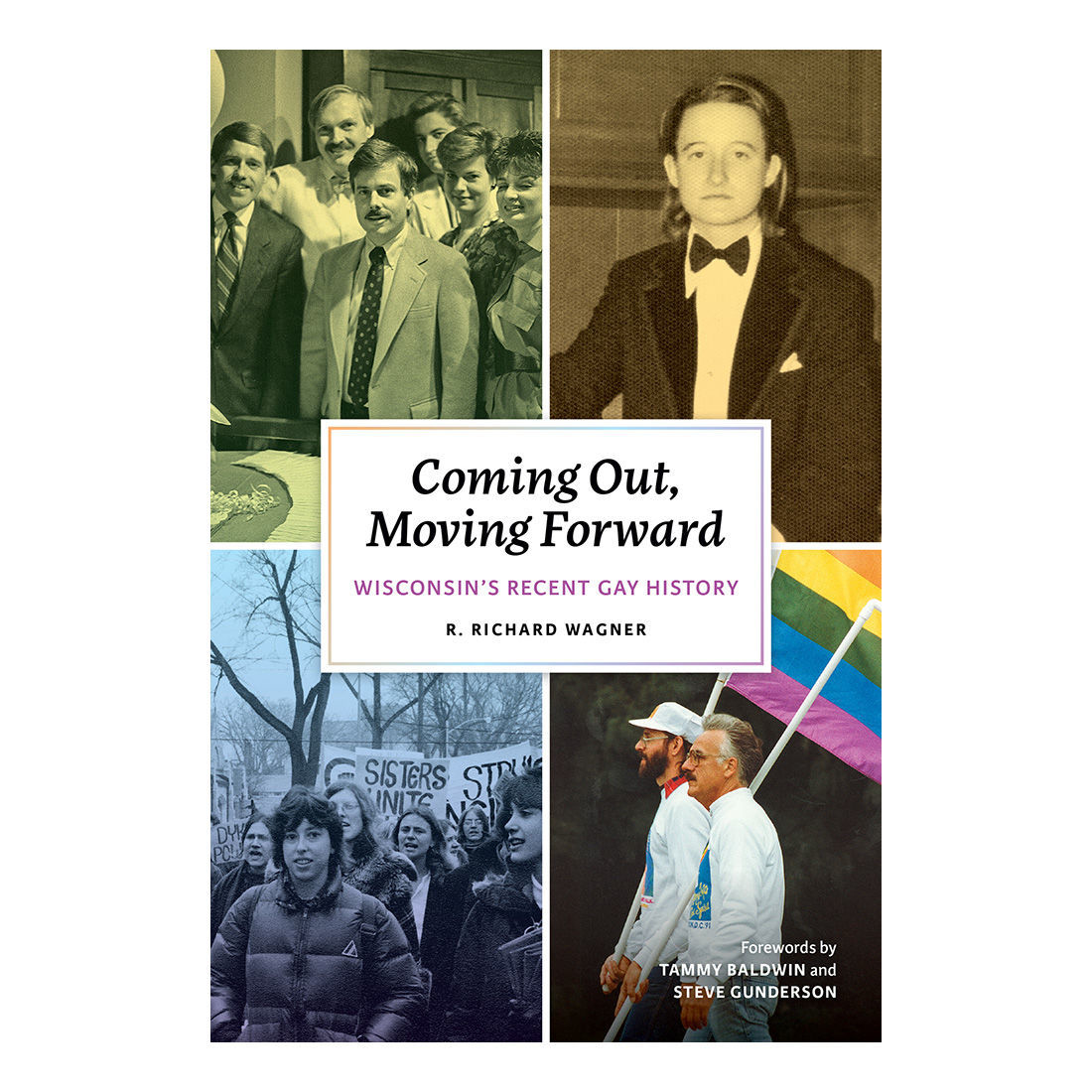 The second volume in R. Richard Wagner's groundbreaking work on gay history in Wisconsin, outlines the challenges that LGBTQ+ Wisconsinites faced in their efforts to right past oppressions and secure equality in the post-Stonewall period period between 1969 and 2000. This is published by the Wisconsin Historical Society Press. Wagner's books inspired the 2023 PBS Wisconsin Documentary "Wisconsin Pride."
Buy the Book
This inspiring and educational book presents examples of LGBTQ+ activism throughout Wisconsin's history for young people to explore and discuss. Drawing from a rich collection of primary sources—including diary entries, love letters, zines, advertisements, oral histories, and more—the book provides a jumping-off point for readers who are interested in learning more about LGBTQ+ history and activism.
Buy the Book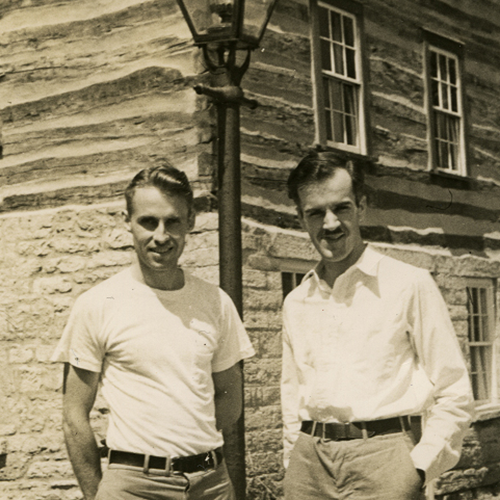 Love & Partnership
In the middle of the 1900s, gay couple Bob Neal and Edgar Hellum met and began to rescue historic buildings one at a time from demolition. Assigning Cornish-language names to each, they opened a restaurant to sustain their preservation efforts and lived on the grounds. Their remarkable success – at the height of the Great Depression – launched the 20th-century transformation of Mineral Point into the vibrant hub for arts, preservation, and tourism it is today.
Their hard work and dedication has preserved a part of Wisconsin history that you can experience yet today!
Visit Pendarvis
Two Spirit People
In American Indian communities, the term Two Spirit has been used for many generations, predating western religion and LGBTQ+ terminology. Two Spirit describes individuals who have both masculine and feminine spirits and are uniquely blessed to see life through the eyes of two genders. Two Spirit people possess a unique identity and should be recognized as such, as the term is not necessarily interchangeable or synonymous with other commonly used LGBTQ+ terms. Someone who is Two Spirit embodies two genders residing in one person. A Two Spirit person may be gay, but a gay person is not necessarily Two Spirit. You can learn more about what it means to be Two Spirit in the article from Indian Country Today below.
Learn More
Queer Art Gallery
Explore more LGBTQ+ history
Learn more about the gay experience in Wisconsin and beyond through these historical essays.
Fascinating Items from Our Historical Collections
The Society has many items related to LGBTQ+ history available to explore in our online collections. Here are a couple highlights.
Compelling Images from the Our Historical Collections
Outside Resources
The Society has put together this page with stories, images, and artifacts from our LGBTQ+ collections; however, these collections just scratch the surface of the history of the LGBTQ+ community in Wisconsin. Please take the opportunity to explore these additional resources from other Wisconsin sources.
Pride Month Merch!
Shop pride month related merchandise from our online store. 100% of the proceeds support the Society.
Shop Here
Support the Preservation of Wisconsin's History