Feature Story
Steven Craig Gunderson
Celebrating Wisconsin Visionaries, Changemakers, and Storytellers
< Back to 175 < Back to LGBTQ+ History
A Changemaker in Congress
Changemaker | Steve C. Gunderson | 1951 - Present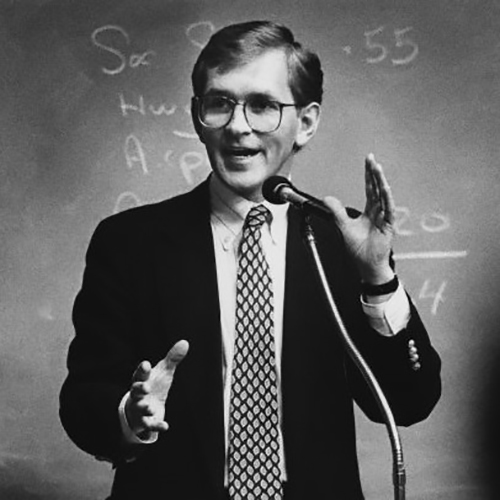 Steve Gunderson, first openly gay Republican in Congress WHI Image 125409
As the first openly gay Republican in Congress, Steve Gunderson is a changemaker who helped usher in an era of broader acceptance of the LGBTQ+ community in the new millennium. Gunderson, along with other openly gay or lesbian individuals elected to Congress, helped shatter stereotypes and foster acceptance of LGBTQ+ individuals.
Steve Gunderson was born in Eau Claire, Wisconsin, in 1951 and attended public school in Pleasantville and Whitehall before attending the University of Wisconsin-Madison and then the Brown School of Broadcasting in Minneapolis, Minnesota. Gunderson held multiple public offices including serving in the Wisconsin State Assembly from 1975 to 1979 and the U.S. House of Representatives from 1980 to 1997.
Gunderson earned a reputation as a hardworking state assemblyman during his time in the U.S. House of Representatives, serving on the Agriculture Committee, the Rural Health Care Coalition, and the Labor Committee. On March 24, 1994, during a debate on the floor of the House, fellow Republican Bob Dorman publicly outed Gunderson as gay, later commenting to the Eau Claire Leader-Telegram and the Milwaukee Sentinel that conservatives had a moral obligation to "expose . . . and destroy" gay Republicans like Gunderson.
Although he had planned to retire in 1994, following the incident with Dorman, Gunderson decided to run for another term and won the seat against Democratic and conservative challengers. In his final years as a congressperson, he began to openly challenge his colleagues' antigay sentiments and public policy decisions. Still, Gunderson decided not to run for another term and began a shift away from politics. In 1996, he released his memoir, House and Home: The Political and Personal Journey of a Gay Republican Congressman and the Man with whom He Created a Family, where he detailed his story as a changemaker.
Sources: Wisconsin Magazine of History Article Wisconsin Congressman Steve Gunderson: Gay Republican in the American Culture War |Biographical Directory of the United States Congress | Washington Post Article, House Mates
Learn More: