Resources for Local Historical Societies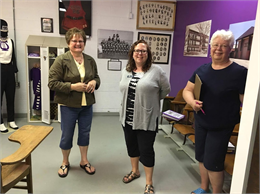 About the Local History - Field Services Program
The Society's Local History-Field Services Program provides resources for local historical organizations, including an annual conference, a series of Local History Webinars, occassional workshops, grants and information to help you start your own local or specialized history organization.
Wisconsin Historical Markers
Wisconsin Historical Markers tell stories about the people and places that contribute to our state's rich heritage.
Refine Search
For more information on Local Historical Society
Have Questions?
Enlarge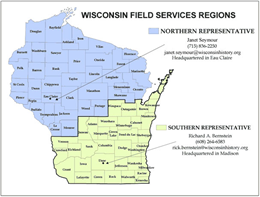 Wisconsin Field Services Regions
Contact the Northern Representative, Janet Seymour, by phone at 715-836-2250 or by email below:
Contact the Southern Representative, Richard Bernstein, by phone at 608-264-6583 or by email below: