General Information
Local History Regional Meetings
Collaborate. Communicate. Join the discussion.
Enlarge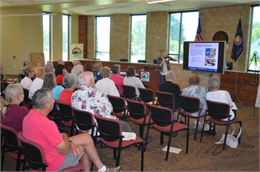 New Museum Project Updates
Field Services Representative Kristen Leffelman introduces plans for a new Wisconsin History Museum.
We invite affiliates of the host region, as well as history and other non-profit organizations in the area, to attend these informative events. Each meeting will feature updates from the Society and Wisconsin Council for Local History, a brief business meeting and elections, and presentations and workshops on a variety of topics.
2020 Regional Local History Meeting Schedule
Due to the COVID-19 pandemic, no in-person regional meetings are planned for 2020. Please check back for webinars and other learning opportunities to be posted to this page.
Have Questions?
Contact:
Janet Seymour
c/o University of Wisconsin-Eau Claire
105 Garfield Avenue, Hibbard 728
Eau Claire, WI 54701-4004
Phone: 715-836-2250
janet.seymour@wisconsinhistory.org
Save
Save
Save
Save