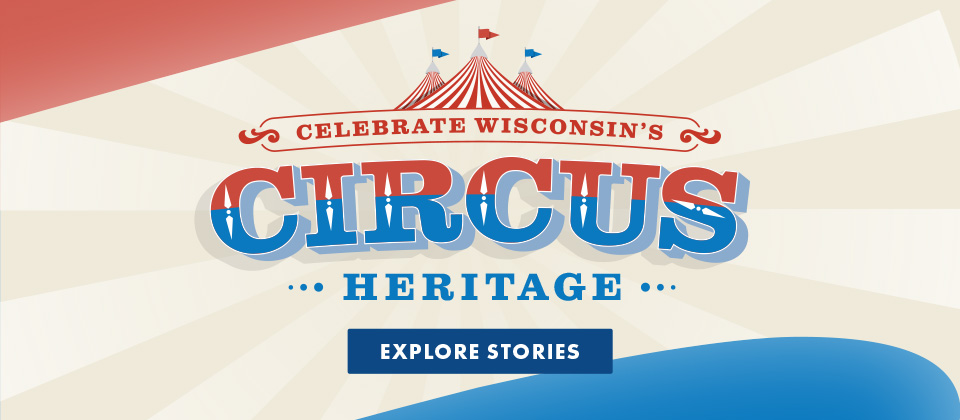 History is a story with many voices, always growing and evolving—a story we tell together.
Throughout time and place, humans have looked to the past to inspire the future. We study the stories of those who came before us to define who we are today, and who we want to become tomorrow. We have a conversation with our past to build a better future. There are countless chapters in this story — achievements that inspire us to be better, and tragedies that remind us not to go down the wrong path. Follow along as we share fascinating and diverse stories of people and places from Wisconsin history.
In 2021, the Wisconsin Historical Society marks its 175th year of collecting, preserving, and sharing history. Join us in celebrating Wisconsin visionaries, changemakers, and storytellers. We hope you find these stories illuminating, powerful, and inspiring.
Wisconsin's Circus Heritage
Wisconsin has a rich circus history. The world-famous Ringling Bros. formed their circus in Baraboo in 1884, and between 1847 and 1998 over 100 circuses would call the Badger State home. This heritage lives on today at Circus World, one of the Society's 12 historic sites and museums. Celebrate this history by exploring fascinating stories of circus performers with ties to Wisconsin who used their unique talents to positively impact the communities around them.
Summer at Circus World!
June 18 – Aug 29
7 Days a week | 9 am - 4 pm
The beautiful big top has risen to host stupendous entertainment all summer long under a canvas sky of blue. This inspiring venue allows for socially distanced seating for guests to safely enjoy the splendor of live performances as we bring history to life. Enjoy inspiring interactions with animals, learn all about the art form of clowning through our "Be a Clown" presentation, and tap your toes with our Antique Musical Instrument concert located in the open air Hippodrome. All this plus seven National Historic Landmark buildings filled full of engaging exhibits and artifacts.
Visionaries
We celebrate these forward-looking innovators who charted new paths for others.
Changemakers
We celebrate these changemakers who were pivotal in our state's history.
Storytellers
We celebrate these storytellers who played a role in sharing history.
Check out our unique products, books, and upcoming events that continue the celebration of Wisconsin visionaries, changemakers, and storytellers.