Feature Story
Lucía Nuñez
Celebrating Wisconsin Visionaries, Changemakers, and Storytellers
< Back to 175 < Back to LGBTQ+ History
A Lifetime Educator and Activist
Changemaker | Lucía Nuñez | 1960 - Present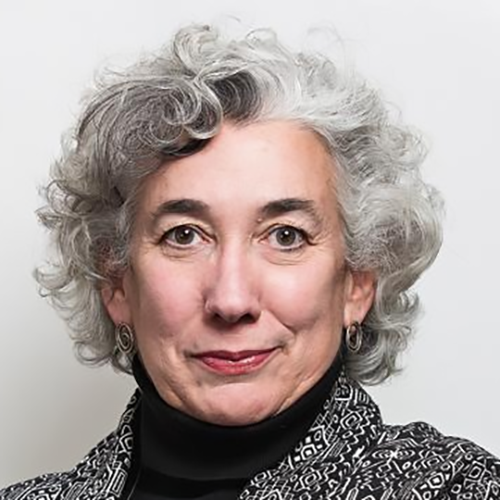 Nuñez, an educator and community activist in Madison, Wisconsin, currently serves as vice president of Equity, Inclusion and Community Engagement at Madison College. Courtesy of A. David Dahmer, Madison365
Lucía Nuñez is a Cuban American educator, community activist, lesbian, and changemaker who has lived in Wisconsin since 1999. Her educational experiences were foundational in the work she has done and continues to do in her communities, from Honduras to California to Wisconsin.
Growing up, Nuñez had many influential teachers who recognized her potential. When she was sixteen, she was accepted at a boarding school in Massachusetts. She went on to study political science at Connecticut College, where she was introduced to literature from Latin America and Spain. During college, she explored and embraced her identities as a Cuban, a Latina, and a lesbian. She went to graduate school at the University of Massachusetts at Amherst, where she studied international education.
Before graduate school, Nuñez joined the Peace Corps in 1985, where she met her partner, Heidi Vargas. They were assigned to work in Honduras during an extremely volatile period. Both worked with the Federación Hondureña de Mujeres Campesinas, the Honduran Federation of Rural Women, a women's village cooperative with a mission to establish schools. In the 1990s, Nuñez worked with teachers at Stanford University in California to help immigrant children and youth succeed in the classroom.
Nuñez moved to Wisconsin in 1999 after accepting the position of executive director of Centro Hispano of Dane County. She worked to help school systems create more equitable classrooms in response to the tremendous growth of the Latino community in Wisconsin and throughout the Midwest during the time. In 2003, she became deputy secretary of the Wisconsin Department of Workforce Development, where she confronted statewide issues facing not just Latinos but rural women and the Native American communities around the state. She then worked as administrator of the Equal Rights Division for the State of Wisconsin and, in 2006, became the first director of the Department of Civil Rights for the city of Madison.
During her years working for the state and for the city, Nuñez was still engaged as an activist. In 2006, she marched at Madison's Latino immigrant rally with Mayor Dave Cieslewicz. Nuñez currently serves as vice president of Equity, Inclusion and Community Engagement at Madison College. Her continued work is driven by a strong belief in education as an agent for positive change.
*This story was adapted from Lucía Nuñez's interview in the Wisconsin Historical Society Press book "Somos Latinas: Voices of Wisconsin Latina Activists," by Andrea-Teresa Arenas & Eloisa Gomez, available for purchase here.