Feature Story
Ralph Kerwineo
Celebrating Wisconsin Visionaries, Changemakers, and Storytellers
< Back to 175 < Back to LGBTQ+ History
Trans Man Challenges Cultural Expectations in Early 1900s
Visionary | Ralph Kerwineo | 1876 - 1932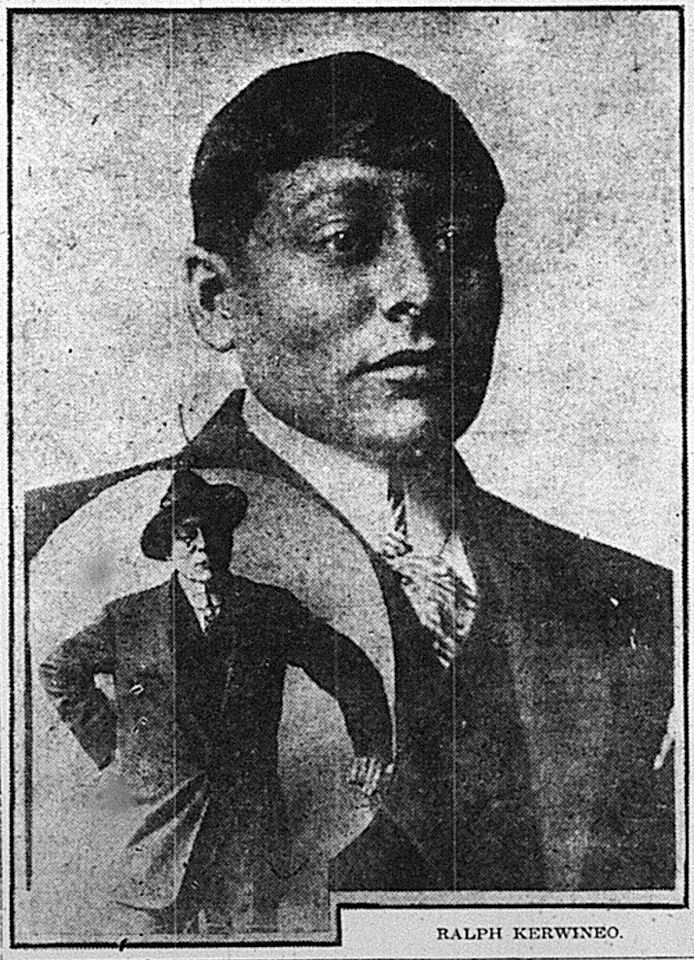 Photo from a newspaper article recounting the details of Kerwineo's arrest and the supposed public outcry. Courtesy of Milwaukee Sentinel, May 4, 1914
In the early 1900s, before women's suffrage and more than a century before same-sex marriage became legal nationwide, it was extremely difficult for a woman to be independent without a husband. Laws and prejudices exerted control over women and their position in society. The story of Ralph Kerwineo illustrates the struggles of one individual who lived outside of the heteronormative roles expected at the time.
Ralph Kerwineo was a trans man born on April 6, 1876, in Kendallville, Indiana, to an African American father and Potawatomi and Cherokee mother. They were the only family of color in their small rural town. Kerwineo was a smart and ambitious student. After high school, he attended nursing school at Provident Hospital in Chicago, the first Black-owned and -operated hospital in the United States.
Discriminatory attitudes toward race and gender made it difficult for Kerwineo to find a job in his field, so he settled for low-wage labor. Mamie White, a fellow graduate of Provident in 1900, was also having trouble finding work as a nurse. The two became roommates in Chicago while struggling to earn enough to survive. It was around this time that Kerwineo began dressing as a man in private.
Hoping to find better prospects elsewhere, Kerwineo and White saved enough money to move to Cleveland. Unfortunately, they found the situation to be much the same. While in Cleveland, Kerwineo decided to dress and live publicly as a man. White posed as his wife. They reasoned that Kerwineo would earn more than enough to support both of them on a man's wages, and this proved true. Kerwineo found steady work at the Hollenden Hotel, but he and White feared someone would find them out.
In 1906, Kerwineo and White settled in Milwaukee. Kerwineo began frequenting places like pool halls, bars, and dance halls, which put a strain on his relationship with White. The two argued over Kerwineo's identity; White wanted Kerwineo to begin dressing as a woman again.
In late 1913, Kerwineo left White for Dorothy Kleinosky, whom he had met at a dance hall. By 1914, the new couple were married. After abruptly losing her partner of over a decade, White filed a complaint of spousal abandonment with the district attorney and told numerous parties that Kerwineo was biologically a woman. At the police station, Kerwineo told reporters that White's claims were true, and he was arrested for disorderly conduct. He was taken to a cell, stripped of his clothes, and forced to wear women's clothes. Kerwineo was found guilty of the charge, but he was allowed to leave without a fine or jail time. He was permitted to stay in the city on the condition that he continue to dress as a woman. His marriage to Kleinosky was later annulled by a civil court judge. Upon leaving the courthouse, Kerwineo said, "I am feminine not again, but still. But my heart and soul are more those of man than a woman. Now it is hard to reconcile myself that I must go back to my former existence."
Kerwineo would spend the rest of his life struggling financially, forced to live as a woman despite identifying as a man. He died in 1932 in Chicago. Despite his visionary departure from societal norms and expectations, Ralph Kerwineo was bound by the cultural expectations and had little room to express his identity and lead the life he wanted.
*For the full story of Ralph Kerwineo, see "The 'Girl-Man' of Milwaukee: the Lives of Cora Anderson" by Matthew J. Prigge, available to read for free in the Wisconsin Magazine of History archives here.