Feature Story
Judy Greenspan
Celebrating Wisconsin Visionaries, Changemakers, and Storytellers
< Back to 175 < Back to LGBTQ+ History
Campaigning for Change in Madison Schools
Changemaker | Judy Greenspan | (birth year) - Present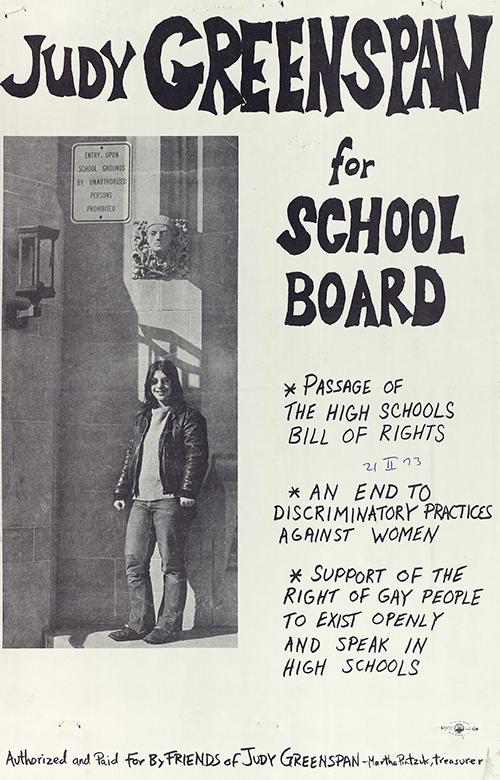 A campaign poster promotes Judy Greenspan for Madison's school board in the 1973 election. Greenspan's platform focused on ending discrimination against members of the LGBTQ+ community. WHI ID #59050
In 1972, Judy Greenspan was a 20-year-old out lesbian and changemaker studying at the University of Wisconsin–Madison. As a member of the Madison Gay Liberation Front (GLF), she accepted an invitation from a Madison East High School teacher to speak with other GLF members at an upcoming workshop on sexual identity and orientation. The presentation never took place. Upon hearing about the workshop, the school's principal abruptly cancelled the event and worked with other school administrators to adopt a policy banning all gay and lesbian speakers in Madison high schools.
In response, Greenspan decided to run for a seat on Madison's school board in the 1973 election. As one of the first out lesbian women in the United States to run for elected office, she gained access to a public platform to educate the community about discrimination toward lesbians and gay men. Greenspan was confident in her campaign messaging and believed in her ideas. She advocated for women's rights and brought a new perspective to conversations about conditions for LGBTQ+ students and faculty, students' education about gay issues, and other school matters.
Greenspan lost the primary election on March 6, 1973. Despite the defeat, her historic run brought visibility to the cause and helped foster greater acceptance of the LGBTQ+ community, paving the way for victories of other out gay and lesbian politicians from Wisconsin like Senators Tammy Baldwin and Mark Pocan. Greenspan's courage in the face of discrimination makes her a changemaker who stood up for the rights of LGBTQ+ individuals and helped create a more tolerant society. Today, she lives with her partner in Berkeley, California, and still engages in activism.
*This story was adapted from the Wisconsin Historical Society Press books "Coming Out, Moving Forward," by R. Richard Wagner, available here, and "We Will Always Be Here," by Jenny Kalvaitis and Kristen Whitson, available here.