BIG History Is Happening
A big moment in history is happening right now. COVID-19 is having a major impact on all of our lives. As we practice social distancing, and spend more time at home, it is easy to feel isolated from the things you love. We know how much you love history, and until we can welcome you back to the Society, the Library & Archives, and our sites and museums, we are going to bring more history straight to you! Here are some free resources to get you started on your adventure through the past.
Join the COVID-19 Journal Project
You can help the Society collect history as it happens by keeping a journal during the COVID-19 crisis.
Learn How
Food Rationing & Preparedness | June 1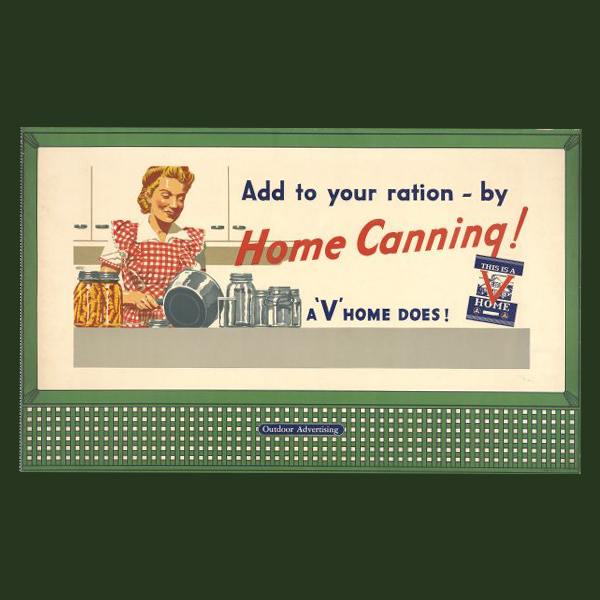 This public information poster, put out in 1943 by the Office of Civilian Defense when rationing was in effect during World War II, encourages residents with "Victory Gardens" to add to their food supply by canning at home.
WHI Image 66866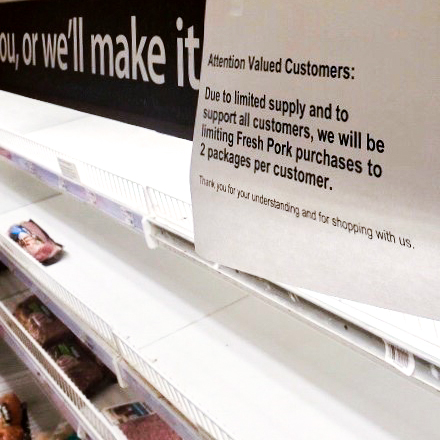 Signs at grocery stores, like this one at a meat department, alerted customers to a purchase limit after a rush early in the COVID-19 pandemic caused supply shortages. Other in-demand items included soup and other canned goods, pasta, and flour.
Credit: Dean Witter
Food Rationing & Preparedness
While it hasn't risen to the level of extreme rationing and sacrifice required during World War I and II, or the concern for food preparedness during the Cold War, the current COVID-19 pandemic has provided modern Americans a taste of what a disruption of the food supply — even a temporary one — could mean to our daily lives, while also offering a lesson in the value of food preparedness measures such as canning.
Facing potential job losses and the prospect of sheltering in place at home for an undetermined length of time, Americans rushed to grocery stores and other outlets during the first weeks of the current pandemic. This enormous and unexpected surge in demand quickly outpaced supply, forcing store managers to begin limiting purchase quantities of certain products.
This experience has been unlike anything many Americans have ever faced and, as a result, it has given most of us a new appreciation for history and the sacrifices for the greater good made by elders from previous generations.
Then
World War I and II were crises of a global scale that greatly disrupted the food supply chain. Among many other efforts to support and supply the war effort, these events prompted the U.S. government to implement rationing, which was the planned limiting of quantities of crucial foods to ensure equitable distribution to citizens everywhere.
These events, followed in subsequent decades by fears stoked by the Cold War, motivated citizens to grow and store more food at home by canning, the process of preserving fruits and vegetables under pressure in sealed containers utilizing the home stove.
Most of the produce for home canning came from the backyard garden when it was ripe and in abundance. During the two world wars, the federal government promoted the "Victory Garden" program, which encouraged Americans to support the war effort and exemplify national sacrifice by growing their own crops at home.
Now
The current pandemic is also a global crisis that has disrupted the food chain, especially since our supply system has become increasingly globalized. In addition, the close proximity of working conditions inside food processing facilities, especially meatpacking plants, led to breakouts of COVID-19 and resulted in the temporary closure of some of these critical supply locations.
Government authorities have not implemented rationing in response, but as previously mentioned, the initial rush on grocery stores forced most stores to limit quantities of certain foods and goods. For example, meat department shelves rapidly emptied, as did aisles of pasta. Many people prepared for a potentially long period of home quarantine by clearing out shelves of soup and other canned goods, while others sought refuge by binge baking at home, which led to temporary shortages of staples such as eggs and flour.
In addition, there is also a renewed interest in gardening with "Covid Victory Gardens," as well as in kitchen canning, leading to a significant surge in the sale of seeds and plants. Learn More from the May 26 Then & Now Seeds & Gardening
Resources
LIFE DURING COLD WAR ONLINE EXHIBIT
1960 FALLOUT SHELTER MULTI-PURPOSE FOOD
1943 WOMAN CANNING
1917 CANNING POSTER
1937 GARDEN & CANNING BOOKLET
1918 WAR GARDEN
1917 VICTORY GARDEN STORE WINDOW
WWII VICTORY GARDEN POSTER
WWI WAR GARDEN POSTER
WWI 'MORE FOOD IS PATRIOTISM' POSTER
Donate Food To A Local Pantry!
With supplies still fluctuating at local grocers and so many people out of work, donating canned goods and other non-perishable food items to your local food pantry can make all the difference for a family in need. For those with gardens, take the time to learn how to can food at home to make your bounty last longer, especially for when produce isn't as easily available at stores or markets.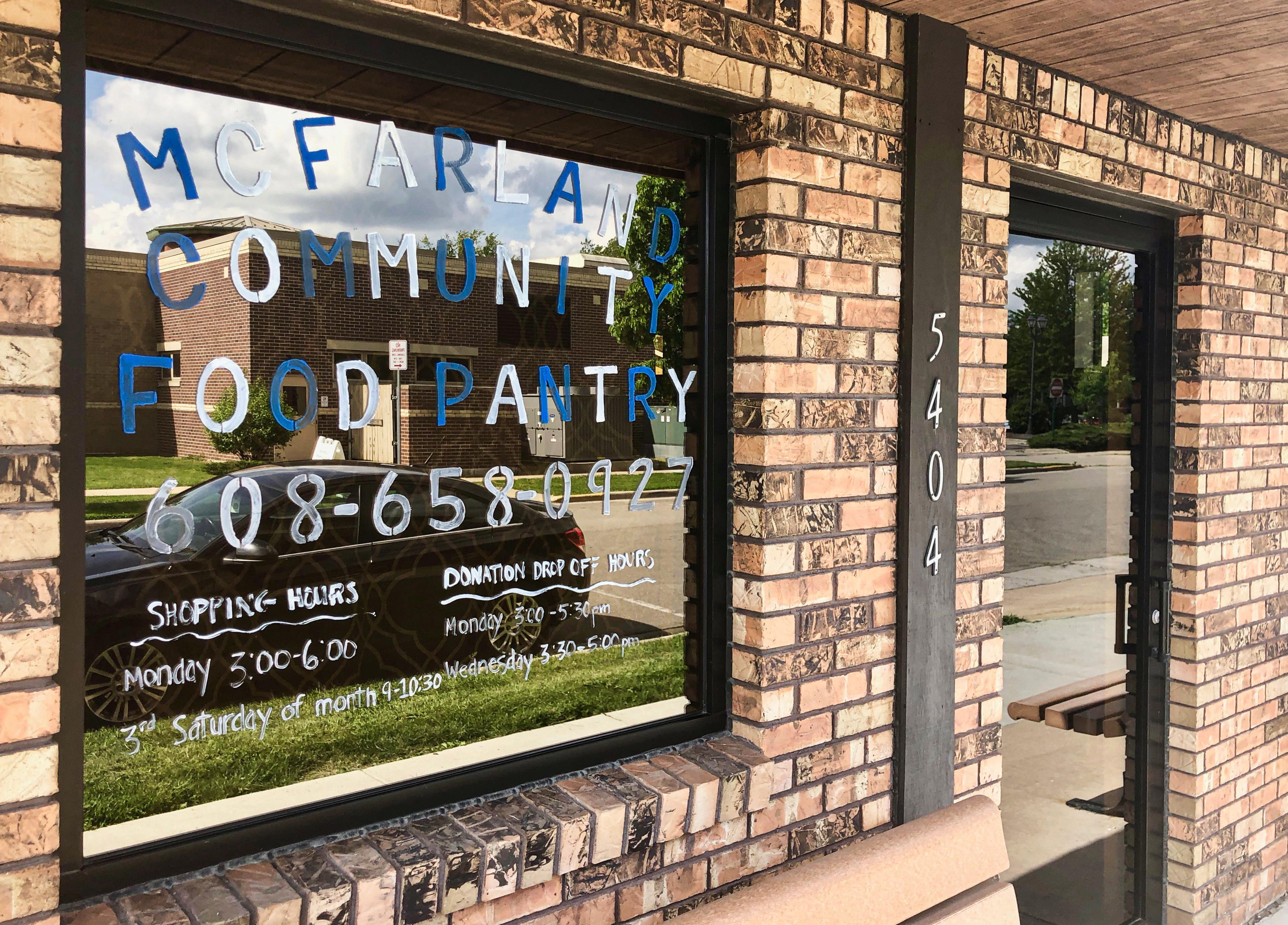 MacFarland's food pantry. Credit Dean Witter
Previous Weeks' Then & Now
Teachers & Adapting in a Crisis
|
Face Masks
|
Pets & Comfort
|
Social Distancing
|
Writing Letters
|
Home Delivery
|
Board Games & Cards
|
Seeds & Home Gardening
Explore BIG Moments in Wisconsin's History
Research & Discover History
Education & Activity Resources
Book Nook
The COVID-19 Pandemic has temporarily affected the Society's ability to fulfill hard copy book orders. However, you can still find Wisconsin Historical Society Press books at your favorite book retailer, including independent booksellers at IndieBound. E-books are also available through most e-book vendors, including KOBO, the online e-book portal for many independent booksellers. And make sure to follow us on Facebook for virtual storytime!
Bring History Home
Our online store is open and ready to take your order! Here are a few suggestions to beat the boredom.
COVID-19 Poster Project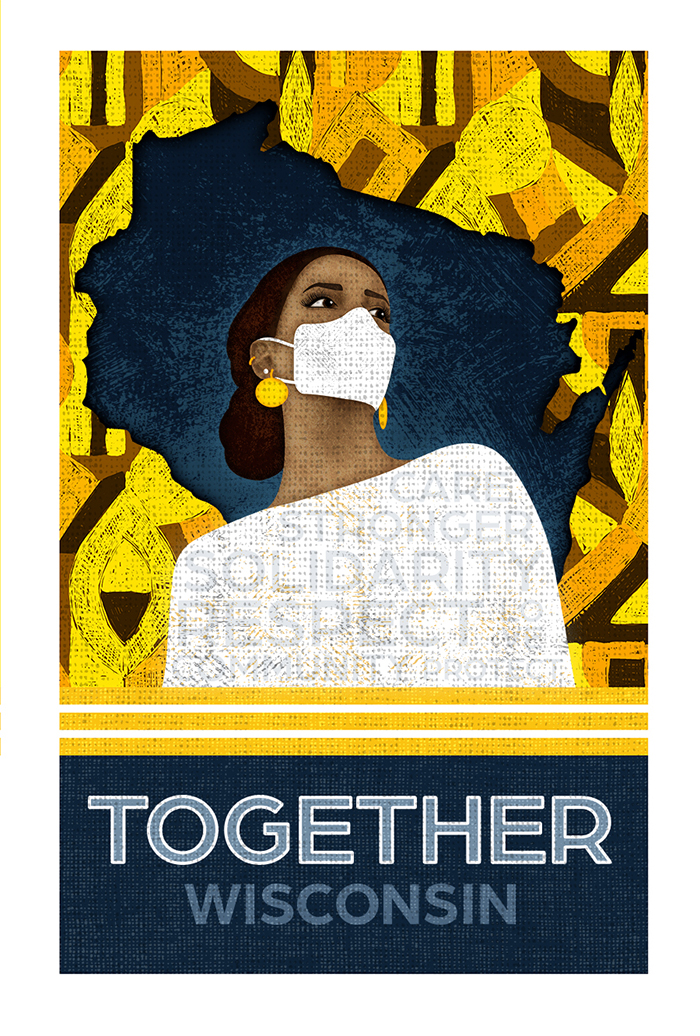 Final Poster | Together Wisconsin
Becca Bryant
Becca Bryant is the Creative Director and Founder of local design studio, Urban Root Creative. She specializes in custom designs for branding, campaigns, and marketing. Her family was a founding family of Madison and she is the sixth generation to make Madison home. Becca was inspired by all the current issues we are facing and combined them for the "Together Wisconsin" poster.
Learn More
Support the Preservation of Wisconsin's History

Make a BIG impact by supporting the Society's efforts to continue to collect, preserve, and share stories about environmental conservation, and all Wisconsin history.