Feature Story
Lou Sullivan
Celebrating Wisconsin Visionaries, Changemakers, and Storytellers
Writer Advocates for Trans Community
Changemaker | Lou Sullivan | 1951 - 1991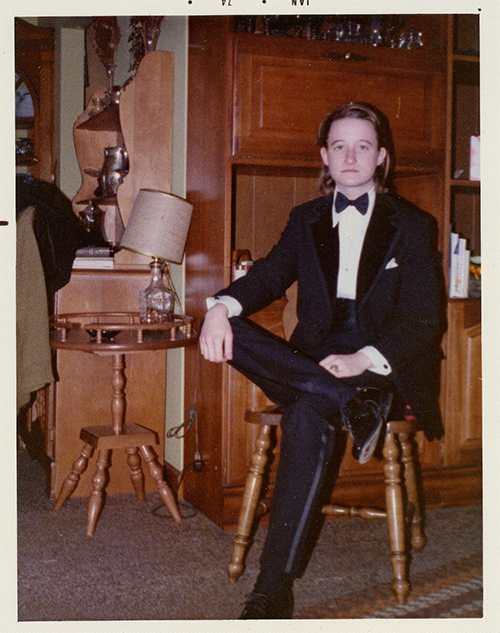 Lou Sullivan pictured in 1974 before attending the GPU's drag ball. Courtesy of the Gay, Lesbian, Bisexual, Transgender Historical Society
Lou Sullivan was a transgender gay man born in Wauwatosa, Wisconsin, in 1951. As one of the first FTM (female-to-male) people to speak publicly about his medical transition, he used his long career as an activist and writer to become one of the foremost national advocates for FTM trans people.
During his youth, Sullivan dreamed of becoming a writer. In early journal entries, he explored his identity on the page long before he told anyone he felt like a man trapped in a woman's body.
In 1970, while working at the University of Wisconsin–Milwaukee, Sullivan attended his first meeting of the Gay People's Union (GPU). Through the GPU, Sullivan learned about community organizing and helped the organization become more inclusive for trans people. Ultimately, he was elected as GPU secretary. Continuing the passion for writing that started in his youth, he wrote articles on transgender issues and theory that were published in GPU News during the 1970s.
After moving to San Francisco in 1975, Sullivan sought medical help to transition but was denied access to medical therapy and procedures because it was assumed that individuals who wanted to transition were heterosexual. Sullivan had to break ground to find help, and he was eventually successful. He wrote that "information for the female-to-male transsexual is practically non-existent." In his 1980 book, "Information for the Female-to-Male Crossdresser and Transsexual," Sullivan gave advice on clothing items, hairstyles, and body language for trans men. In 1990, he wrote the biography of another transgender man, "From Female to Male: The Life of Jack Bee Garland."
Sullivan organized correspondence networks and get-togethers, and he edited an FTM newsletter called The Gateway. He is credited with creating the basis for the largest FTM organization in the United States, simply known as FTM. His work in bringing FTM trans people into the public's view helped influence the medical profession to drop assumptions about gender identity and sexual orientation. Sullivan showed how questioning discriminatory practices in the medical establishment could result in progress.
In 1987, Sullivan was diagnosed with AIDS and had to wage a new battle to educate medical professionals on how trans AIDS patients should be supported. In his journal, Sullivan wrote, "You told me I couldn't live as a gay man, but now I am going to die like one." Lou Sullivan was a changemaker and storyteller who used his voice to advocate for the trans community.
*This story was adapted from the Wisconsin Historical Society Press books "Coming Out, Moving Forward," by R. Richard Wagner, available here, and "We Will Always Be Here," by Jenny Kalvaitis and Kristen Whitson, available here.