Feature Story
Donna Burkett and Manonia Evans
Celebrating Wisconsin Visionaries, Changemakers, and Storytellers
< Back to 175 < Back to LGBTQ+ History
Lesbian Couple Pushed for Same-sex Marriage Rights
Visionaries | Donna Burkett & Manonia Evans | 1946 & 1950 – Present (respectively)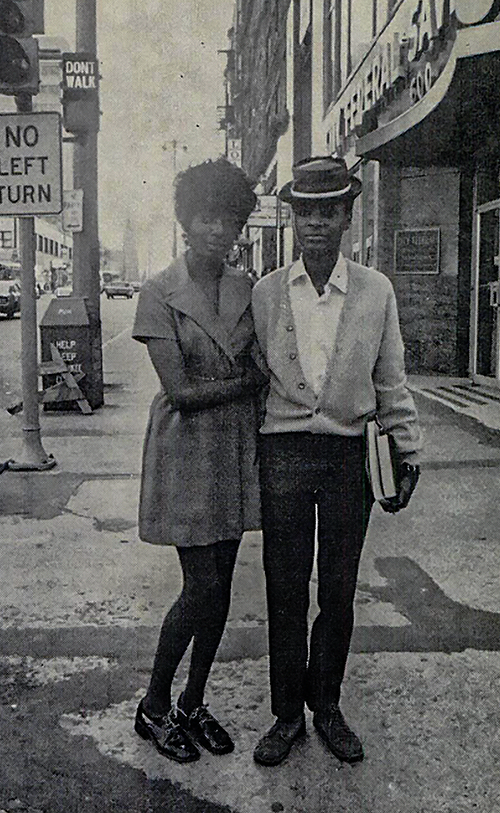 "The government doesn't have the right to tell you who to go to bed with," said Donna Burkett in response to when she and her partner, Manonia Evans, were denied a marriage license in Milwaukee in 1971. Isaac Sutton, Johnson Publishing, Smithsonian Institution
In September 1971, Donna Burkett and Manonia Evans applied to a Milwaukee County clerk for a marriage license. Burkett, twenty-five at the time, had grown up on Milwaukee's North Side. After graduating from North Division High School, she took some college and technical school classes and then joined the US Army, spending time in Alabama where she experienced racial segregation. When she returned to Milwaukee, she became an activist, marching with Father James Groppi for open housing in 1968 and attending Gay People's Union (GPU) meetings. Burkett met Manonia Evans, a college student and pastor's daughter four years her junior, at a gay bar on the North Side. Burkett later recalled, "I did not believe the government had any business telling me who I could marry."
After being refused a license, Burkett and Evans filed a federal lawsuit claiming that the denial of marital benefits, including inheritance rights and joint tax filings, did not afford them the equal protection granted by the Constitution. The complaint read, "The legal increments of marriage ought to be shared irrespective of generic differences, to wit: mutual fulfillment and happiness and the equal opportunity to share in the benefits of the law as those in heterosexual unions blessed by the civil marriage contract." Federal judge Myron Gordon dismissed the suit over technical legal issues. Undeterred, the couple invited 250 friends to witness their union, which took place on Christmas Day in 1971 in Milwaukee.
Burkett and Evans's story made national news and drew attention to marriage inequality, and their example encouraged others to continue the fight. In 2015, more than four decades after Manonia Evans and Donna Burkett applied for a marriage license, same-sex marriage finally became legal in all fifty states after the Supreme Court decision in Obergefell v. Hodges. The push for marriage equality by visionaries such as Burkett and Evans made such change possible.
*This story was adapted from the Wisconsin Historical Society Press books "Coming Out, Moving Forward," by R. Richard Wagner, available here, and "We Will Always Be Here," by Jenny Kalvaitis and Kristen Whitson, available here.
Donna Burkett was interviewed by the OUTWORDS Archive in 2018.