Feature Story
Button from Tammy Baldwin's first campaign for Wisconsin State Assembly
Wisconsin Historical Museum Object – Feature Story
Enlarge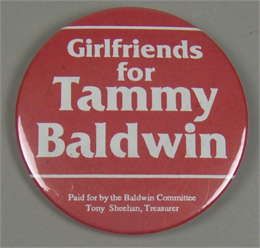 Button from Tammy Baldwin's first campaign for Wisconsin State Assembly, 1992
Source: Wisconsin Historical Museum object #1993.45.2
(Museum object 1993.45.2)
Button from Tammy Baldwin's first campaign for Wisconsin State Assembly, 1992
(Museum object 1993.45.2)
This button was made for Tammy Baldwin's first campaign for Wisconsin State Assembly in 1992. Baldwin, who had served on the Dane County Board of Supervisors since 1986, won the race for Wisconsin's 78th Assembly District with 59% of the vote.
The button's reference to "girlfriends" is a nod to the fact that Baldwin ran as an openly lesbian candidate, as she has for her entire political career. Baldwin served three terms in the Wisconsin Assembly, representing the 78th district from 1993 to 1999. She was elected to the United States House of Representatives from Wisconsin's 2nd congressional district in 1999 and served until 2013. She was elected to the United States Senate in 2012. Baldwin is the first woman elected to represent Wisconsin in the US Congress and the first openly gay US Senator in history.
Tammy Baldwin is the most prominent of a relatively large number of successful lesbian and gay elected officials from Wisconsin. When he was elected to the Madison City Council in 1977, Jim Yeadon became the first openly gay man elected to such an office in the US. Steve Gunderson of Eau Claire was the first openly gay Republican to serve in the U.S. House of Representatives, winning re-election in 1994 after being outed by a fellow Republican.
Other prominent LGBT office holders include Richard Wagner and Ricardo Gonzalez (Dane County Board), JoCasta Zamarripa (State Assembly), Tim Carpenter (State Senate), Mark Pocan, (US House of Representatives), and Satya Rhodes-Conway (Madison mayor).