Historical Essay
Rainbow flag carried by a protestor at a lecture by Ralph Reed
Wisconsin Historical Museum Object – Feature Story
Enlarge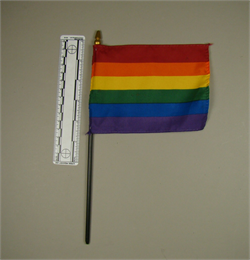 Rainbow flag carried by a protestor at a lecture by Ralph Reed, Madison, Wisconsin, 1998
Source: Wisconsin Historical Museum object 1998.9.2
Rainbow flag carried by a protestor at a lecture by Ralph Reed, Madison, Wisconsin, 1998
(Museum object 1998.9.2)
Most people recognize the rainbow flag as a symbol of LGBT pride. Variations of rainbow flags have been used for numerous causes since the 1880s, ranging from Buddhism to peace to the cooperative movement. Like many public affirmations of LGBT identity, this rainbow flag has its origins in the 1970s. San Francisco artist and drag queen Gilbert Baker designed the first LGBT rainbow flag in 1978. Inspired by the ubiquity of the American flag during the bicentennial year, Baker recalled thinking that gay people should also have a flag that identified them as a tribe and proclaimed their power.
As Baker told the Museum of Modern Art in 2015, "It was necessary to have the Rainbow Flag because up until that, we had the pink triangle from the Nazis … . It came from such a horrible place of murder and holocaust and Hitler. We needed something beautiful, something from us. The rainbow is so perfect because it really fits our diversity in terms of race, gender, ages, all of those things. Plus, it's a natural flag—it's from the sky!"[1]
Baker and a crew of collaborators dyed and sewed two huge, 8-color rainbow flags in the loft of San Francisco's Gay Community Center, and first flew them on June 25, 1978. He included a circle of tie-dyed stars to let people know that it was symbolic and not just decorative. Baker made several changes to the early design, dropping the stars and eliminating pink and turquoise stripes. By 1979, the familiar, six-color, red on the top, violet on the bottom version was set.
This particular flag was carried by a protester at a lecture by Ralph Reed, held on the University of Wisconsin-Madison campus on February 17, 1998. From 1989 through 1997 Reed was the executive director of the Christian Coalition, a religious political organization devoted to promoting conservative beliefs and candidates, including opposition to gay rights.
On the flag's enduring significance, Baker has said, "What the rainbow has given our people is a thing that connects us. I can go to another country, and if I see a rainbow flag, I feel like that's someone who is a kindred spirit or [that it's] a safe place to go. Its sort of a language, and it's also proclaiming power."