BIG History Is Happening
A big moment in history is happening right now. COVID-19 is having a major impact on all of our lives. As we practice social distancing, and spend more time at home, it is easy to feel isolated from the things you love. We know how much you love history, and until we can welcome you back to the Society, the Library & Archives, and our sites and museums, we are going to bring more history straight to you! Here are some free resources to get you started on your adventure through the past.
Join the COVID-19 Journal Project
You can help the Society collect history as it happens by keeping a journal during the COVID-19 crisis.
Learn How
Recent Updates
Seeds & Home Gardening | May 26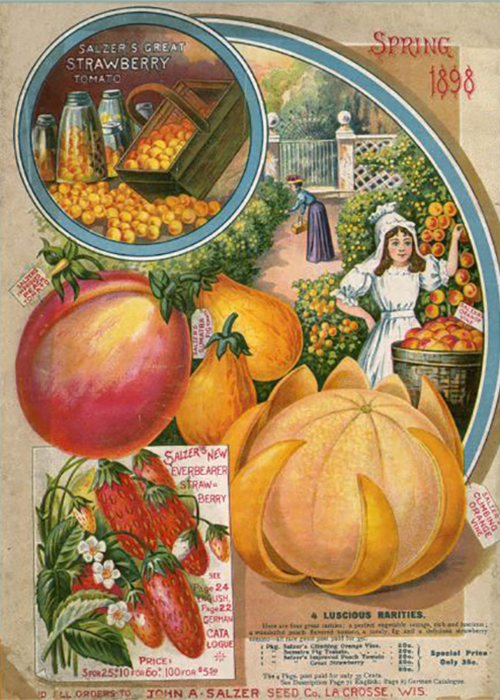 For decades, seed catalogs were the most popular way for home gardeners to order their products. This is the back cover of the John A. Salzer Seed Company catalog from 1898, which is part of the Wisconsin Historical Society collection.
WHI Image 129544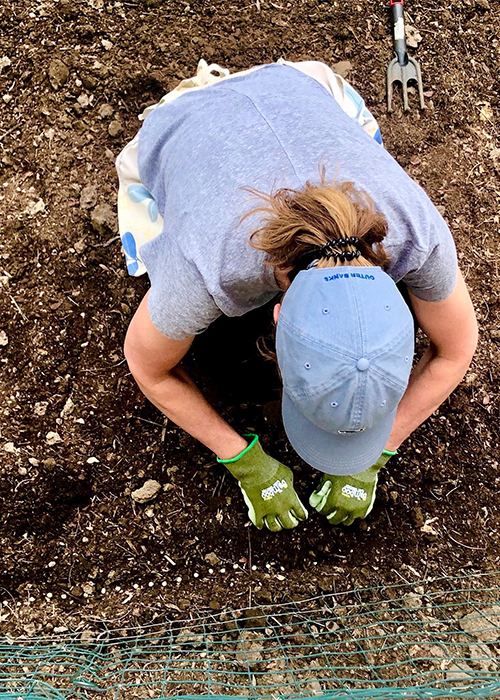 While many may no longer order seeds through catalogs (though they do still exist), today's home gardeners still plant them just like their parents and grandparents. Here, Nettie Witter of McFarland plants peas in her backyard garden.
Credit: Dean Witter
Seeds & Home Gardening
Wisconsin is nationally known for its proud agricultural history, but the COVID-19 pandemic is sparking a new appreciation for this beloved part of our state's heritage.
As warmer weather arrived with the calendar turning to the seed-planting month of May, many people staying home are deciding that this is the perfect opportunity to give gardening a try for the first time, or expand on previous harvests.
Some are dipping their green thumbs in with limited container gardening, while others are going all-in by cultivating a patch of their yard. As a result, businesses that sell seeds and plants are reporting record-breaking demand.
It represents the latest chapter in Wisconsin's history of residents taking advantage of our state's fertile soil.
Then
Throughout the state's history Wisconsinites have gardened for subsistence, as landscape ornamentation, and as a pleasurable pastime.
Native Americans have tended the soil for over 2,000 years. The first gardeners domesticated native crops such as squash, sunflowers, and lambsquarters. Between the years 1000 and 1400, corn and beans arrived from the South and were added to the mix. Native peoples carefully managed soil chemistry to enhance fertility and sustainability, crafting distinctive ridged fields that still survive in a few locations.
Settlers from the East and Europe integrated their own gardening traditions. Europeans introduced crops such as melons, potatoes, and millet to Native populations, and in return accepted corn, squash, and beans for their own gardens.
During World Wars I and II, citizens were encouraged to grow their own food to support the war effort. "Victory Gardens" were promoted as a way to direct more of the nation's food production to the armed forces and refugees overseas. They were part of a wider program of self-sacrifice for the greater good that included the rationing of materials such as rubber, paper, and gasoline; and the purchase of war bonds and stamps, among other supportive actions. A Victory Garden was a way to show your participation in the national effort, but also offered the practical benefit of growing your own food when shortages and rationing were common.
Now
There are countless reasons for the surge in agricultural attraction during the COVID-19 pandemic. For some, it's a chance to rekindle traditions passed down by ancestors who grew up on family farms. For others, it's a way to keep busy while at home, or to engage children in a meaningful and long-lasting project. Some see it as a practical source of food and an opportunity to avoid the potential risk of extra trips to the grocery store. At the very least, gardening is an excuse to get outdoors and relax while engaging in a rewarding activity away from the cares of the world.
Media outlets from New York to San Francisco have covered the surge in garden-related sales. A Milwaukee Journal Sentinel story reported on a firm that had to temporarily stop taking new inquiries after orders had doubled from the previous year. "People are looking to get into it whether it's for growing their own food or having a project to do at home," Nathan Zondag, vice president of J.W. Jung Seed Co., told the paper. The Journal Sentinel also spoke to others facing similar demand. "We are selling out," added Zannah Crowe, horticulturist at Johnson's Gardens in Cedarburg. "It's a nationwide trend. There is a huge, huge demand for it. … I hope these people have success because then we have a whole new generation of gardeners."
"We are 500% busier than we normally are this time of year," Mario DiGrande, owner of Oakland's Thornhill Nursery, told the San Francisco Gate. "I've already sold as much soil in six weeks that I do in an entire year. It's just crazy."
Resources
World War I Victory Garden Poster
World War II Victory Garden Poster
Garden Wisdom: Lessons Learned from 60 Years of Gardening
Vintage Wisconsin Gardens: A History of Home Gardening
Putting Down Roots: Gardening Insights from Wisconsin's Early Settlers
Garden Business Surge Milwaukee Journal Sentinel
Vintage Seed Catalogs
International Harvester Victory Gardens
Heirloom Garden Month at Old World Wisconsin
Plant A Garden!
Consider planting and tending a garden this season as a way to relax outdoors, keep busy, and/or provide some fresh alternatives for the table. A bounty of tomatoes like this could be yours!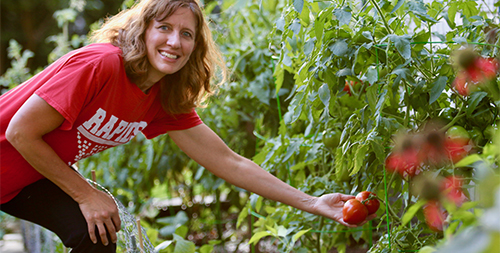 Nettie Witter shows off her tomato crop last year in the backyard of her McFarland home. Credit: Dean Witter
Previous Weeks' Then & Now
Teachers & Adapting in a Crisis
|
Face Masks
|
Pets & Comfort
|
Social Distancing
|
Writing Letters
|
Home Delivery
|
Board Games & Cards
Explore BIG Moments in Wisconsin's History
Research & Discover History
Education & Activity Resources
Book Nook
The COVID-19 Pandemic has temporarily affected the Society's ability to fulfill hard copy book orders. However, you can still find Wisconsin Historical Society Press books at your favorite book retailer, including independent booksellers at IndieBound. E-books are also available through most e-book vendors, including KOBO, the online e-book portal for many independent booksellers. And make sure to follow us on Facebook for virtual storytime!
Bring History Home
Our online store is open and ready to take your order! Here are a few suggestions to beat the boredom.
COVID-19 Poster Project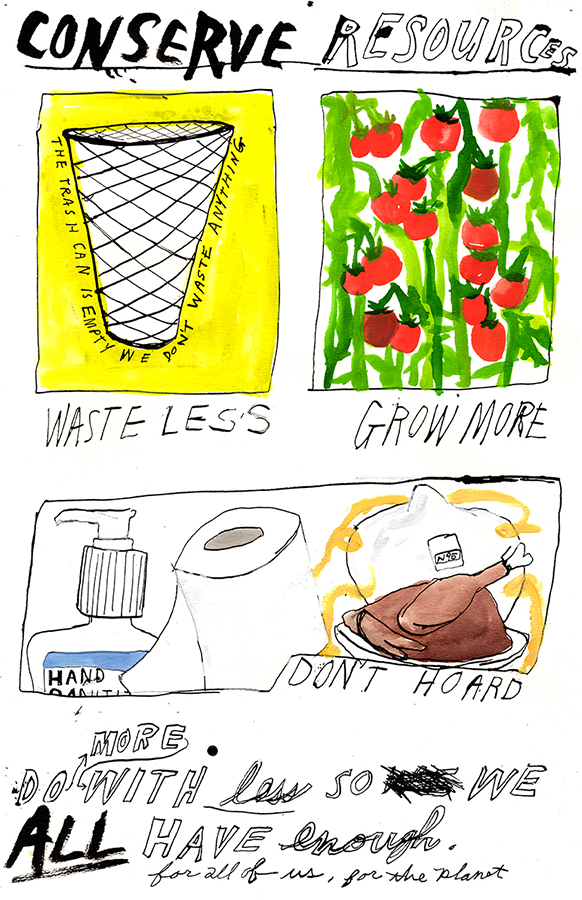 May 27 | Conserving Resources
Colin Matthes
Colin Matthes (Milwaukee, WI) is an artist. He combines improvised utilitarian construction techniques with instructional drawing, spectacle, and civically minded projects that range from group knowledge archiving sessions to "eco" demolition derbies. He always shows the means of production. The process, the fingerprints, the screwups.
Learn More
Support the Preservation of Wisconsin's History

Make a BIG impact by supporting the Society's efforts to continue to collect, preserve, and share stories about environmental conservation, and all Wisconsin history.