General Information
March On, Milwaukee
Commemorating the Milwaukee Fair Housing Marches
Enlarge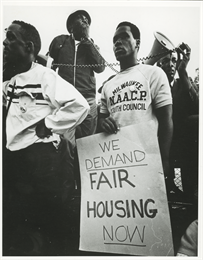 Protesters for Fair Housing
Milwaukee, Wisconsin View the original source document: WHI 97930
During the 1960s, Milwaukee was an epicenter in the nationwide struggle for civil rights. Activists and community members staged boycotts, led protests, and fought for legal protections against segregation in education and housing. From August 1967 to April 1968, activists marched for 200 consecutive nights to protest segregation in housing in Milwaukee. This movement ultimately led to the passage of the Fair Housing Act on April 11, 1968, which protects people from discrimination when buying or renting a home.
Since 2016, the Wisconsin Historical Society has partnered with March On Milwaukee 50th and its offshoot, March On, Milwaukee, to commemorate the fair housing movement and to promote education of related local history topics in Milwaukee and beyond. This partnership has contributed to the creation and promotion of the fiftieth anniversary commemorative effort, 200 Nights of Freedom; the development of a traveling display, Crossing the Line: The Milwaukee Fair Housing Marches of 1967-1968; and the collection of a series of oral histories by past and present activists.
To learn more about these projects and the fair housing marches, follow the links below.
Webpages
Historical Essays
Videos
Wisconsin Historical Society Press Books
Wisconsin Magazine of History Articles