Historical Essay
Barbee, Lloyd A. (1925-2002)
Civil Rights Advocate and Legislator
Enlarge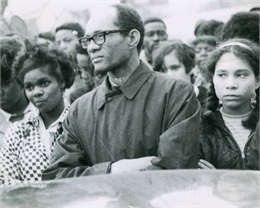 Lloyd Barbee
Lloyd Barbee at King Memorial, 1968. Lloyd Barbee in a somber crowd at a memorial gathering for Dr. Martin Luther King, Jr. View the original source document: WHI 48141 View the original source document: WHI 48141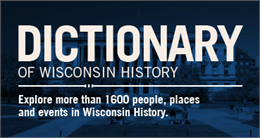 b. Memphis, Tennesse,
August 17, 1925


d.

December 29, 2002

Lloyd Augustus Barbee was an attorney, a Wisconsin legislator, and one of the most prominent leaders of Wisconsin's civil rights movement who fought for school integration in Milwaukee.

He was born in Memphis, Tennessee, on August 17, 1925, and joined the National Association for the Advancement of Colored People (NAACP) when he was just 12 years old. Barbee served in the U.S. Navy during WWII.

In 1949, he graduated from the all-black LeMoyne-Owen College with a B.A. in economics. Later that year, Barbee moved to Madison to attend the University of Wisconsin Law School, but dropped out after his first year because of the racism he encountered among his peers and professors. He eventually returned to the university, however, and received his law degree in 1956.
Fighting Segregation in Milwaukee Schools
Barbee had already become involved with the NAACP and various political causes by the time he came to Milwaukee in 1962. In 1964, Barbee organized and led an alliance of civil rights activists dedicated to ending de facto segregation in Milwaukee called the Milwaukee United School Integration Committee (MUSIC). This group became the primary vehicle for his desegregation efforts and a class-action lawsuit against the city's school board.
In 1963 Barbee led the NAACP's challenge to the Milwaukee Public Schools (MPS), demanding that school officials make stronger efforts to integrate schools. When MPS refused to modify its school policy, the NAACP organized boycotts of MPS schools and operated "freedom schools" in their place. When that failed, Barbee decided to file a lawsuit to make the courts do what the school board would not.
On June 17, 1965, Barbee filed a federal lawsuit, "Amos et al. v. Board of School Directors of the City of Milwaukee" charging the Milwaukee School Board with unconstitutionally maintaining racial segregation in its schools. From 1965 to 1976 Barbee spent thousands of hours on the case, often working alone against a battery of Milwaukee Public School lawyers.
Finally, in January of 1976, Federal Judge John Reynolds ruled that Milwaukee Public Schools were indeed segregated unlawfully, prompting the Wisconsin Legislature to enact a school integration program. Although Barbee won the case in 1976, he spent the next several years dealing with appeals, new trials, and work to enact a viable plan to desegregate the school system. Though not perfect, the court decision began to address schooling issues in Milwaukee.
In 1992, the Wisconsin Advisory Committee issued a report on the effects of the desegregation program implemented after Barbee's victory and its impact on the quality of education received by students in Milwaukee.
Work in the Wisconsin State Assembly
In 1964, Barbee was elected to the Wisconsin State Assembly where he served until 1977. He introduced legislation concerning open housing (State Fair Housing bill) and fair employment practices, as well as introducing legislation promoting gay rights, women's rights, prison reform, the legalization of drugs and prostitution, disarming police officers and taxation of churches. In later years, Barbee continued to work as a Milwaukee lawyer, and remained dedicated in his commitment to promoting human rights and positive social change. Barbee continued to fight segregation and inequality in Milwaukee until his death on December 29, 2002, at the age of 77.
Learn More
See more images, essays, newspapers and records about Lloyd A. Barbee.
Dictionary of Wisconsin History
Explore more than 1,600 people, places and events in Wisconsin history.
[Sources: Wisconsin Blue Book, March On Milwaukee - Civil Rights History Project from University of Wisconsin-Milwaukee.]