Classroom Material
Getting the Message: How Governments Use Public Information Posters to Inform and Inspire
A Classroom Tie-in to the BIG History is Happening project
Enlarge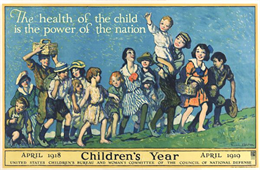 Children's Year
View the original source document: WHI 25985
Art In Times of Crisis
The use of arts and artists to both build morale and emphasize a particular point of view has been commonplace throughout the history of the United States. Whether directly recruiting for the war effort (such as the famous I Want You for the U.S. Army Uncle Sam poster) or to encourage new social norms, the work of artists has been a central platform of how society responds to times of great social change.
Create Your Own Public Information Poster
Using the resources included in this lesson, create your own public information poster. In keeping with what is going on around us in the world today with COVID-19, the posters will either have a public health and safety message or they will have a call to action to help promote social change, well-being and community spirit. Use the link below to download the lesson plan and instructions for how you can be part of the BIG History is Happening project.
Download the lesson
Getting the Message: How Governments Use Public Information Posters to Inform and Inspire Generations

Getting the Message: Classroom Slides