Historical Essay
African American Migration
World War II and it Effect on Blacks
Enlarge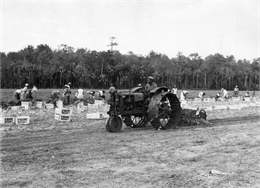 African American Field Workers, 1935
African American field worker levels the ground with a McCormick-Deering F-12 tractor and a rotary scraper in preparation for planting a new crop of celery on the Morgan Brothers' farm. Several men and women are picking crops in the background. View the original source document: WHI 12121
Some African Americans settled in Wisconsin prior to statehood, but their numbers were small. Fewer than 3,000 African Americans lived in Wisconsin in 1910. Most lived in cities and faced very limited employment. By 1930, the black population had only increased by 7,000.
Hard to find jobs
A few Blacks were attracted to jobs in Milwaukee during World War I. Unlike Michigan and Illinois, Wisconsin's agriculture and skilled manufacturing jobs did not have many opportunities for African Americans. Most farms were owner-operated and had little demand for hired labor. Most industrial jobs were already taken by earlier immigrants.
Factories were segregated until the start of World War II. The war temporarily improved the lives of African Americans as labor shortages in critical wartime industries provided employment. New migrants came mainly from Mississippi, Arkansas and Tennessee. The continuing demand for labor brought on by the manufacturing boom during the war and the efforts of the Milwaukee Urban league opened an abundance of industrial jobs during and after World War II.
Enlarge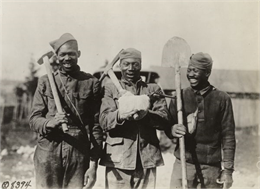 Black Soldiers in WWI, 1918
Three African American soldiers with a company of engineers somewhere in France. They are holding a shovel, pick, and sledgehammer. View the original source document: WHI 54247
Population distribution
Wisconsin's African American population increased by almost 600 percent from 12,158 in 1940 to 74,546 in 1960. They remained concentrated in a few urban areas. Nearly ninety percent lived in Milwaukee, Beloit, Madison, Racine or Kenosha.
Manufacturing jobs provided employment for large numbers of African Americans in Wisconsin. Many Blacks soon purchased property and joined the middle-class. But discrimination and segregation still existed throughout the state and were not addressed until the Civil Rights movement of the 1960s.
Learn More
Explore the Turning Points in Wisconsin History Collection
[Source: The History of Wisconsin vol. 6 (Madison: State Historical Society of Wisconsin); Kasparek, Jon, Bobbie Malone and Erica Schock. Wisconsin History Highlights: Delving into the Past (Madison: Wisconsin Historical Society Press, 2004); "In Motion: The African American Migration Experience." Online collection. Schomburg Center for Research in Black Culture online]