Historical Essay
Depression and Unemployment
Hard Times in Wisconsin
Enlarge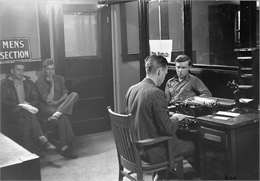 Employment Office, 1933
Men looking for a job during the Great Depression wait their turn in the Employment Office waiting room, while another sits with a clerk and fills out forms in hopes of finding work. View the original source document: WHI 24514
The stock market crash of October 1929 drastically curtailed economic growth throughout the nation. Factory workers struggled for food and shelter. Farmers had to cope with severe decreases in income and property value. Milwaukee was hit especially hard by the depression. Between 1929 and 1933, the city suffered a 75% increase in unemployment.
Strikes
Strikes increased sevenfold between 1933 and 1934 in Milwaukee. Farmers wanted to halt milk delivery until they received better prices. Violence soon broke out in several counties at the news. Industrial workers faced falling wages and frequent lay-offs. Labor leaders organized workers and increased union influence. Wisconsin passed its first labor code in 1931, which granted workers the right to organize.
When the stock market crashed, many small banks closed permanently. In March, 1933, Wisconsin Governor Albert George Schmedeman declared a two-week statewide moratorium on banking. The collapse of Wisconsin's banks was unprecedented in state history. Recovery was a slow process. The banks never recovered until 1942, when production for World War II began to repair the country's economy.
Intervention
Before Roosevelt introduced the New Deal in the 1930s, Wisconsin's legislature enacted the first unemployment compensation law in the nation. University of Wisconsin economist John R. Commons had promoted unemployment compensation for two decades. But Commons' bill never succeeded during the prosperity of the 1920s. But once people began losing their jobs after the 1929 crash a new unemployment bill drafted by Harold Groves passed in early 1932. It became a model for the nation.
Enlarge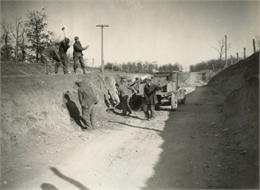 New Deal Road Work, 1934
CWA road crew leveling a grade on a county road near Westfield. The CWA undertook many road and utility projects during the Great Depression in order to provide relief for out of work men. Such projects were sometimes referred to as "make work," but it is certainly clear from the absence of power equipment, that the projects were clearly "work." View the original source document: WHI 40827
President Franklin Roosevelt appointed UW economists and Wisconsin natives Arthur Altmeyer and Edwin Witte to the Committee on Economic Security in 1934. Witte and Altmeyer devised a program that established a national retirement-age insurance system, federal and state unemployment insurance and aid to dependent mothers and others who could not work. The government expanded protection to the unemployed, the aged and the disabled with the Social Security Act in 1935.
Wisconsin's legislature also developed public works projects, such as railroad improvements and a forestry program for northern Wisconsin. The Civilian Conservation Corps (CCC) was one of the most effective New Deal relief agencies. The program employed young men to help preserve the nation's natural resources. In Wisconsin, 92,000 men planted trees, built trails and constructed erosion controls in 45 camps across the state. Many of the foot bridges, beaches and hiking trails that survive today in Wisconsin's state parks were built by CCC programs.
Farmers
Relief efforts helped many urban workers. But New Deal programs did little to assist farmers. The federal government created the Agricultural Adjustment Act — AAA — to raise prices of grains and produce by asking farmers to destroy crops. They hoped the lowered supply would incease prices. The AAA identified nine basic crops and paid farmers to decrease their acreages of them. The program helped some large farms. But small farmers did not benefit.
Farmers in the Fox River Valley went on strike in the spring of 1933. They withheld milk, shut down cheese and butter factories and barricaded roads with the aim of raising prices. AAA limits on milk production improved dairy prices slightly, but it was not a permanent solution for Wisconsin's dairy farmers.
New Deal policies helped Wisconsin's residents. But America's entrance into World War II is what really revived the economy. Wartime industries provided Wisconsin's urban worker with jobs. Farmers increased production to meet the demand of soldiers and civilians. World War II created a new era of prosperity in the 1940s.
Learn More
Explore the Turning Points in Wisconsin History Collection
[Sources: The History of Wisconsin vol 4 (Madison: State Historical Society of Wisconsin); Kasparek, Jon, Bobbie Malone and Erica Schock. Wisconsin History Highlights: Delving into the Past (Madison: Wisconsin Historical Society Press, 2004); Gara, Larry. A Short History of Wisconsin. (Madison: State Historical Society of Wisconsin, 1962)]