General Information
Local History Webinars
Training Programs for the Local Historian
2018-19 Local History Webinars
Local History-Field Services' first local history webinar of the 2018-19 season has been scheduled and is now open for registration below. A full schedule is in the works, so bookmark this page and check back soon to see what we have in store for all of our over 400 local historical affiliates and more. All local history webinars are free and open to anyone interested in local history and the tools needed to collect, preserve and share your stories.
Recordings of past webinars are available here.
---
September 5, 2018 - Why Aren't You Asking for Year-End Gifts?
Presented by Donna Ann Harris, Heritage Consulting Inc.
Donna Ann Harris is the principal of Heritage Consulting Inc., a Philadelphia-based consulting firm that works nationwide providing training, research, coaching and consulting services on historic preservation, audience development, volunteer management, heritage tourism, program planning and organizational development issues for historic organizations and sites.
Prior to starting her firm fourteen years ago, Ms. Harris was state coordinator for the Illinois Main Street program for two years and the manager of the Illinois suburban Main Street program for four years. During her tenure, Ms. Harris served 56 Illinois Main Street communities, led a staff of 12 and managed a budget of over a million dollars. Prior to her Main Street career, Ms. Harris spent 15 years as an executive director of three start-ups and two mature preservation organizations, each with its own organizational and fundraising challenges.
According to Charity Navigator, your history organization could be raising up to 40 percent of its donations during the last six weeks of the year through an effective year-end appeal. This workshop will give you an overview and tools to implement a year-end campaign using both social and traditional media to seek support for the general operations of your historic site. This fast-paced program will outline a simple ten-step process to implement a campaign starting in mid-November until December 31. We will discuss how to create a realistic financial goal, prepare your website for online donations, sort mailing lists, create compelling stories and letters/emails, reinforce the campaign with appropriate PR, schedule and automate thank you letters and prepare for the last push between Christmas and New Year's Eve. Participants
will receive an extensive resource packet of materials including the slide deck, articles, calendar and bibliography.
Register for this FREE program by clicking here.
---
Enlarge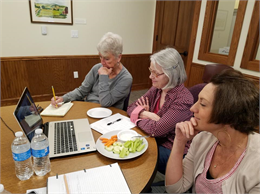 Mount Horeb Area Historical Society volunteers watch local history webinar "Object Numbering."
Volunteers Lee Underwood, Donna Read and Aimee Arrigoni, who help maintain the Mount Horeb Area Historical Society's 25,000 piece (and growing) collection, take part in a recent Wisconsin Historical Society Field Services local history webinar on object labeling.
To watch this and other past local history webinars, click here.
---
Learn More
Resources for Local Historical Societies
Have Questions?
Contact Richard Bernstein, Local History-Field Services, Office of Programs and Outreach, Wisconsin Historical Society
Richard Bernstein
Wisconsin Historical Society
816 State Street, Room 455
Madison, WI 53706-1482
Phone: 608-264-6583