General Information
Local History Webinars
Training Programs for the Local Historian
Enlarge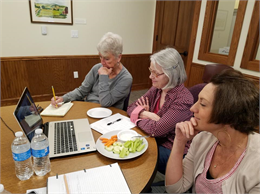 Volunteers Lee Underwood, Donna Read and Aimee Arrigoni, who help maintain the Mount Horeb Area Historical Society's 25,000+ piece collection, take part in a recent Wisconsin Historical Society local history webinar on object labeling.
The Wisconsin Historical Society's Local History Outreach office offers local history webinars throughout the year. All local history webinars are free and open to anyone interested in local history and the skills needed to collect, preserve and share your stories.
The local history webinar series is on hiatus for the winter/spring 2020 season.
We will provide links to free webinars presented by partner organizations and continue providing access to the library of recorded webinars. The most timely information on offerings for local history organizations is included in the monthly "What's New in Local History" e-newsletter. If you don't current receive the e-newsletter, sign up by emailing fieldservices@wisconsinhistory.org.
Recordings of all our past local history webinars are available here.
---
Learn More
Resources for Local Historical Societies
Have Questions?
Contact:
Janet Seymour
c/o University of Wisconsin-Eau Claire
105 Garfield Avenue, Hibbard 728
Eau Claire, WI 54701-4004
Phone: 715-836-2250