General Information
Ojibwe Storytelling Series
Winter is Storytelling Season
Enlarge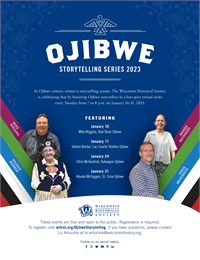 In Ojibwe culture, winter is storytelling season. The Wisconsin Historical Society celebrated by featuring Ojibwe storytellers in a four-part virtual series every Tuesday evening at 7 pm from Jan. 10-31, 2023.
Looking for recordings from the Ojibwe Winter Storytelling Series? Visit the Wisconsin Historical Society's YouTube page to view recordings of past programs.
Watch the 2023 Series Watch the 2022 Series
---
2023 SEASON
January 10, 2023: Mike Wiggins, Jr.
Bad River Tribal Chairman and Renowned Storyteller
Mike Wiggins Jr. is the chairman of the Bad River Band of Lake Superior Chippewa. Wiggins is also a major advocate for the conservation of natural resources. Before becoming the chairman of the Bad River Band, Wiggins served as a conservation warden for the Great Lakes Indian Fish and Wildlife Commission. Today, he is a vocal leader in the protection of the Penokee Hills and in maintaining safe groundwater. In 2019, Wiggins was named an Outstanding Alumni of UW-Superior. Wiggens received his bachelor's degree from UW-Superior in 1992.
---
January 17, 2023: Valerie Barber
Lac Courte Ojibwe Elder and Ojibwe Language Teacher
My name is Valerie Barber, but I prefer "Val" or "Koobie Val." I relate to children as if they are my own kids, grandkids, and even great-grandkids now (which is where the "koobie" comes from, as it is short for "anikoobijigan," or great-gramma).
I was born and raised in South Dakota, although my father, Edward Barber, was from Lac Courte Oreilles, and my mother Alberta Young, was from Lac du Flambeau. My father was a teacher, and my mother was a commercial cook, so they were hired as a team to run a small day school in Thunder Butte, South Dakota. I was fortunate enough to have my father teach my sister, Rose, and myself for our first six years of school. Then, since it was the law, I had to leave my sister, father, and mother behind to attend Cheyenne-Eagle Butte BIA boarding school. I think, seeing my terrible unhappiness, my father took a job with the US Forest Service's Job Corps to get us back home to LCO.
I graduated from Hayward High School and then tried college but left to go into the US Marine Corps. I took evening and weekend college classes at my duty stations and volunteered as an adult education tutor.
I served for six years, coming out with an honorable discharge and the rank of sergeant. I then attended tiny Mt. Senario College, where the nuns put together all my credits from everywhere and worked up what I needed to do, and I graduated with a BA in biology and a minor in secondary education.
I then started an adventurous career of teaching, organizing weekend college for nontraditional tribal students, dealing with the ending of grant-funded positions, working Saturdays running mail, traveling to other countries, working summers for the EPA introducing tribal youth into STEM careers, and serving in AmeriCorps for two years before I landed a job at Hayward Middle/High School as an Ojibwe Language and Culture teacher. I continued to take classes in the evenings and weekends and graduated from Lac Courte Oreilles Ojibwe University (then Community College) with an Associate of Arts degree in Native American Studies. While I worked for Hayward Schools, I realized I was far behind my students in the area of technology, so I took a Master's program in Teaching/Educational Technology from the College of St. Scholastica.
I was diagnosed with breast cancer in 2015 and had to retire from teaching in 2016, as the effects of the cancer treatment were very hard to take. It has taken me years to recover my ability to walk well and get my mind to function correctly again. But, a Marine never quits!
I now spend my time working with a leadership program for high school students in the summer and substitute teaching, volunteering for schools as a storyteller, helping with Ojibwe language, and generally having a good life relaxing and trying various cultural arts in the winter.
My paternal grandmother, Nigouyou, was a famous storyteller from White Earth, MN, and my maternal grandfather, Silas Young, was also a storyteller at Lac du Flambeau for the Boy Scouts; my whole extended family love to talk and are very good at language - English and Ojibwe - so I think I have been given a great gift by all of them. It is my great joy and privilege to share the knowledge and humor of Ojibwe culture with everyone I meet by storytelling.
---
January 24, 2023: Chris McGeshick
Former Chairman, Mole Lake Band, and Seasoned Ojibwe Cultural Practitioner
Chris McGeshick is the former chairman of the Sokaogon Chippewa Community and board chairman of the Great Lakes Inter-Tribal Commission. He currently works as the compliance manager for the Bad River Band of Lake Superior Chippewa. He has been a strong advocate for cultural and Ojibwe language revitalization and protecting northern Wisconsin natural resources.
---
January 31, 2023: Wanda McFaggen
St. Croix Tribal Member and Tribal Historic Preservation Officer
Wanda McFaggen is an enrolled member of the St. Croix Chippewa Indians of Wisconsin, who resides in the West Hertel community of St. Croix. Wanda was born in Oregon but raised in Chicago's Uptown area with six brothers and three sisters. She moved to the St. Croix Reservation about 1983.
Wanda's spirit name is Bedobanukwe (Bii-daab-a-noo-kwe), which roughly translates to Daybreak Woman. She is from the Migizi (Eagle) Clan and is also Second Degree Midewewin.
Wanda's interests include attending ceremonial gatherings and powwows, sewing regalia and quilts, beading, and Ojibwe language and culture. She also spends time teaching community children about St. Croix and the rich culture and heritage of their people.
Wanda studied to become a federal land officer and holds a Federal Land: Level I degree. She established the St. Croix Tribal Historic Preservation Department in August 2000 for the protection and preservation of cultural, historical, and archaeological resources on St. Croix reservation lands; she is the second Tribal Historic Preservation Officer to work for St. Croix. Wanda oversees all things that are significant to St. Croix, including its archaeological and sacred sites and burial mounds.
Wanda has done many cultural papers and presentations on St. Croix for tribal members, non-native communities, and local colleges.
Wanda has worked with Native author Patti Loew on her life story as one of St. Croix's community leaders. She also has created a St. Croix Tribal Historic Preservation Facebook page for tribal members and the general public to research old photos of tribal members, tribal history, project videos, culture, and traditions. She has worked on numerous projects with the Wisconsin Department of Transportation, such as Lac Butte Des Mort's Causeway, Highway 41 between Oshkosh and Neenah/Menasha, Wisconsin, the first of its kind in the state of Wisconsin. She has followed her traditions to help restore wild rice back to Clam Lake in Siren, Wisconsin, and has held feasts at the lake to continue to ask the Creator to help her community and her family to give the gift back to her people. Wanda has also coordinated and documented two birchbark canoe (Wiigwaasi Jiimaan) projects with other members from her tribe to bring back the tradition of canoe-building under the guidance of Marvin DeFoe, Red Cliff tribal member; she made history in 2013 by bringing both canoes to Sandy Lake, Minnesota, for the ancestors that perished there in December of 1850.
Wanda created a yearly calendar and appointment planner that includes historic dates, traditional values, and knowledge for her people and the public.
Wanda's latest projects include teaching her people the art of moccasin-making and tobacco pouch workshops.
---
2022 SEASON
January 25, 2022: Michael Laughing Fox Charette
Michael Laughing Fox Charette, a member of the Red Cliff Band of Lake Superior Chippewa (located in Northern Wisconsin), engages and delights diverse audiences with poetry, flute, drum, and storytelling performances that weave Indigenous teachings into a modern day context. His strong respect for all cultures resonates in his performances.
As a self-taught Native flute player, Michael enhances his stories with hauntingly beautiful flute and drum performance. Growing up surrounded by the beauty of Lake Superior and the woods led him to dedicate his gifts as an artist to gently teaching about Native history, culture, and spirituality. His work as both a visual and performance artist is varied and tied together by the traditional wisdom of the Anishinaabe people, which is respectfully incorporated into his work. Michael captivates audiences with his authentic, relaxed style.
---
February 1, 2022: Edith Leoso
Edith Leoso is a Bad River Tribal member working as the Tribal Historic Presevation Officer since 2005. She has been a discussant and presenter on tribal historic preservation for a variety of audiences on a local, regional, national, and international level. In 2015, she co-authored "Ganawendan Ginibiminaan: Mobilizing with the Bad River Ojibwe Community for Watersheds-At-Risk" with Jessie Conaway, Ph.D., Nelson Institute of Environmental Studies, UW-Madison. In 2010, Edith received her Associate of Arts degree from the Lac Courte Oreilles Ojibwa Community College, Lac Courte Oreilles, Wisconsin. Her story was published in Love Wisconsin in 2018. She was recently featured in the Wisconsin Initiative on Climate Change Impacts Report, an online interactive paper. She is also featured in the YouTube video "Stewards of All Creation."
---
February 8, 2022: Biskakone Greg Johnson
Biskakone Greg Johnson is a proud member of the Lac du Flambeau band of Lake Superior Chippewa Indians. He is a devoted partner and father to four beautiful children. Greg is a teacher, both in the school system and community. You can find him sharing his passion for traditional, seasonal Anishinaabe living with communities throughout the Great Lakes region. He is a hunter, gatherer, spear fisherman, and fierce advocate for treaty rights. His efforts to further sovereignty for the Anishinaabe have been featured in multiple publications. Biskakone is also an acclaimed artist and graphic designer. He has mastered the art of Ojibwe moccasin-making and is motivated to raise up the next generation of makers in this field. Biskakone's commitment to family, ceremonies, and community will always be foremost in his life.
---
February 15, 2022: Leon C. Valliere "Ozaawaagosh"
Leon C. Valliere, also known as Ozaawaagosh, is a recognized elder and ceremonial leader who currently serves the Lac du Flambeau Band of Lake Superior Chippewa Indians as director of the Ojibwe Language Program. Teaching in the Lac du Flambeau Public School, Lakeland Union High School, and Lac du Flambeau community, Mr. Valliere serves students of all ages. In addition, Mr. Valliere also provides instruction, consultation, and curriculum to other Ojibwe language programs in the region.
Ozaawaagosh considers himself to be fortunate, as his upbringing included fluent Ojibwe language speakers in his household and community. He was raised by a traditional hunting, fishing, and gathering family. Ozaawaagosh continues this lifestyle and promotes the "original" aspects of Ojibwe culture within the community known as "Waaswaaganing."
Ozaawaagosh also promotes bi-cultural existence and survival. He continually encourages youth to reach their full potential. Mr. Valliere's formal education was obtained at UW-Stout; however, he credits time spent with noted elders in the northern territory as his true education. His interests include birchbark canoe building, Ojibwe history, and Ojibwe music.
---
Learn More
Resources for Local Historical Societies
Have Questions?
Contact:
Liz Arbuckle
c/o Northern Great Lakes Visitor Center
29270 Co Hwy G
Ashland, WI 54806
Phone: 715-685-2667