Historical Essay
Hidden from History: Working Women's Lives
Enlarge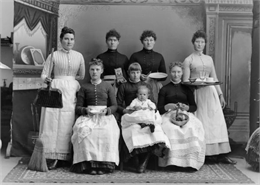 Domestic Staff with Work Utensils, 1890
The household staff (probably Swedish) for one family home, including laundresses, cooks, parlor maids, and scullery girls with their various work utensils. One woman is holding an infant. They are posed in front of a painted backdrop. View the original source document: WHI 1919
Explore Turning Points!
Simply search women or female to discover first hand accounts of women working in Wisconsin!
March is Women's History Month, and this year the Society focuses on the stories of women who didn't make headlines — stories of women who worked on farms, in shops, on assembly lines, at telephone switchboards, or at home. For the last few months, we've tried to recover words by forgotten or neglected women and post them at Turning Points in Wisconsin History. Their voices turn up in obscure government hearings, interviews, hand-written diaries, privately printed pamphlets, minutes of community meetings, yellowed newspaper clippings pasted in scrapbooks, and similarly obscure sources. By following the links below, you can get a glimpse into the lives of women who didn't found institutions, write books, or reform the world — but whose stories deserve to be told just the same.
Women's Work Experiences
For example, in 1913, the Wisconsin Legislature established a committee to investigate the causes of vice in Wisconsin. In an effort to understand what "leads young girls astray," committee members held hearings in Green Bay, La Crosse, Milwaukee, Oshkosh, Sheboygan and Superior at which young women answered questions about their lives. These women were machine operators, store clerks, paper mill workers, laundresses, and employees in other occupations outside the home. They told the committee about their wages, their working conditions, how they spent their leisure time, their home lives, and much more. Anna Sauer, a La Crosse department store clerk, and Dohna Ledman, employed at a laundry in the same city, provided details about their work environments and their social lives that aren't easily found anywhere else. Anna Lancaster, the supervisor of 40 "factory girls" working in the Diamond Match Co. in Oshkosh, told investigators about the 10-hour days her staff spent in a plant where their safety was always at risk. Jennie Simmons, a machine operator at the Northern Glove Co. in Superior, related the tasks she had to perform in order to earn a mere $3 a week and described the few other options available to young women such as her a century ago.
Great Depression & Women's Work
Twenty years later, the Great Depression descended on this same generation of working women. In a community writing class in 1974, Kenosha women recalled how their work, family, and home lives were disrupted by the stock market crash. By the end of the decade, women who were laid off and denied unemployment compensation could protest to the state's Industrial Commission, and the records of its appeal tribunals shed light into hidden corners of working women's lives. We excerpted from those files the cases of Betty Beckley, a Milwaukee hotel maid who lost her job over child care issues, and Claire Kelly, a "cigarette girl" in Milwaukee hotels, both of them discharged in 1941.
Learn More
For more information about Wisconsin women, read our short history, view hundreds of pictures, or explore the new Wisconsin Historical Society Press anthology, Women's Wisconsin: From Native Matriarchies to the New Millennium. To find more first-person accounts by women in Wisconsin history, simply go to the main page of Turning Points in Wisconsin History and type the word "female" (without the quotes) in its search box. You'll currently find about 80 original documents by and about Wisconsin women, and more will be added during March.