Classroom Material
The Real Jean Nicolet
A Companion Piece to "The Misunderstood Mission of Jean Nicolet" by Patrick J. Jung
Patrick J. Jung's book, "The Misunderstood Mission of Jean Nicolet," tackles the mythology surrounding Jean Nicolet's journey to Wisconsin with newly unearthed evidence and a re-reading of the primary source material to create a new and equally amazing history of this ambassador from New France.
Enlarge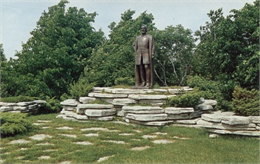 Jean Nicolet Statue
This statue stands near where it was thought Jean Nicolet landed. View the original source document: WHI 127067
Teachers interested in using the content of the book will find this companion PowerPoint useful for highlighting the new information in the text. Designed as a 'pick-a-path-to-adventure' style narrative, students make choices regarding Nicolet's actual mission and known history, following his story as they choose between facts and myths to advance.
Download the PowerPoint
Download the PDF
Learn more about Jean Nicolet in "The Misunderstood Mission of Jean Nicolet" by Patrick J. Jung