Feature Story
2020 Book of Merit Award Winners Announced
This year, two awards were given for the Book of Merit Award. John Odin Jensen received the award for "Stories from the Wreckage: A Great Lakes Maritime History Inspired by Shipwrecks," published by the Wisconsin Historical Society Press. R. Richard Wagner received the award for "We've Been Here All Along: Wisconsin's Early Gay History," published by the Wisconsin Historical Society Press.
About the Books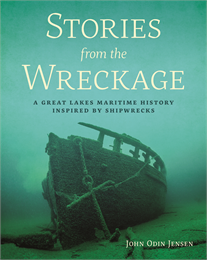 Enlarge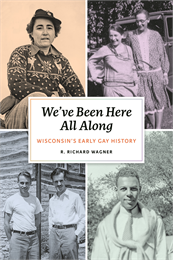 In "Stories from the Wreckage," John Odin Jensen examines a selection of Great Lakes shipwrecks of the wooden age for a deeper dive into this transformative chapter of maritime history. He mines the archaeological evidence and historic record to show how their tragic ends fit in with the larger narrative of Midwestern history. Featuring the underwater photography of maritime archaeologist Tamara Thomsen, this vibrant volume is a must-have for shipping enthusiasts as well as anyone interested in the power of water to shape history.
The first of two groundbreaking volumes on gay history in Wisconsin, "We've Been Here All Along" provides an illuminating and nuanced picture of Wisconsin's gay history from the reporting on the Oscar Wilde trials of 1895 to the landmark Stonewall Riots of 1969. Throughout these decades, gay Wisconsinites developed identities, created support networks, and found ways to thrive in their communities despite various forms of suppression--from the anti-vice crusades of the early twentieth century, to the post-war labeling of homosexuality as an illness, to the Lavender Scare of the 1950s. In "We've Been Here All Along," R. Richard Wagner draws on historical research and materials from his own extensive archive to uncover previously hidden stories of gay Wisconsinites. This book honors their legacy and confirms that they have been fundamental to the development and evolution of the state since its earliest days.
About the Award
The award is given to the author or authors of a book on Wisconsin history which, in the opinion of the judges, made the most valuable contribution to public understanding of Wisconsin's past during the preceding calendar year. The criteria used to evaluate the nominations included factual accuracy, documentation, research methodology, graphic design, and the impact on the reading public.
Learn More
Learn how to nominate books for this award.