Feature Story
2020 Reuben Gold Thwaites Trophy Award Winner Announced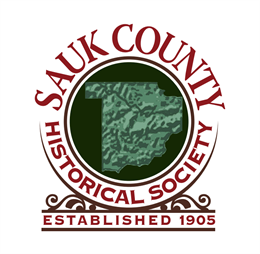 The Sauk County Historical Society received the 2020 Reuben Gold Thwaites Trophy for Local History from the Wisconsin Historical Society. The award recognizes the impact of the Sauk County Historical Society's services and the role it has played in preserving and sharing the unique history of this community.
About the Sauk County Historical Society
The Sauk County Historical Society (SCHS) has demonstrated excellence in collecting, preserving, and sharing history since 1905. One of the state's oldest historical organizations and the fifth organization to affiliate with the Wisconsin Historical Society, SCHS continually looks to offer new spaces and platforms of access.
The SCHS manages and maintains a diverse collection of historic buildings and other cultural resources, including the Sauk County Historical Museum and Sauk County History Center, Man Mound National Historic Landmark, the Yellow Thunder Memorial, and Hulbert Creek Garden Beds. It fosters community partnerships that encourage diversity in programming, from targeted school-aged offerings to an annual Indigenous Peoples Day program, planned and presented in partnership with the Ho Chunk Nation. Educational programming for children and adults is a priority for the organization. "Sauk County Investigators" offers fourth grade students an opportunity to explore history and solve mysteries using primary sources. The SCHS developed a 10-part module on Baraboo history for public and private third-grade classrooms in the district. In 2018, the SCHS launched a new website with more than 400 pages of fully searchable Sauk County history, including photographs, family histories, and extensive databases. The society also created an app for both iOS and Android users to further engage new audiences. Over 3,000 people are served annually through in-person programming. The website had more than 20,000 unique visitors and over 49,000 individual page views in 2019.
About the Award
Named for the Wisconsin Historical Society's second director, the Reuben Gold Thwaites Trophy recognizes one local historical society each year that has demonstrated a commitment to excellence and a record of success in collecting and preserving local history in its various forms.
Learn More
See past winners and learn more about how to nominate local historical societies for the trophy.