Feature Story
2019 Historic Restoration Award Winner Announced
The Hotel Northland received the 2019 Historic Restoration Award from the Wisconsin Historical Society for revitalizing an important Green Bay historic property.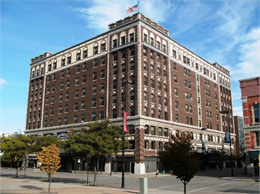 Hotel Northland, Green Bay
View the property record: AHI 29441
About
Green Bay's Hotel Northland was designed by prominent Milwaukee architect Herbert Tullgren for hotelier Walter Schroeder in 1924. It was one of the largest and most important buildings constructed in Green Bay prior to the end of World War II and reflected the city's growth that witnessed the rise in popularity of the Packers and played a major role in events surrounding the development of Green Bay's football culture. The Hotel Northland hosted a National Football League conference in 1927 and served as NFL headquarters during three Green Bay-hosted championships in 1961, 1965, and 1967. In 1959, it was the setting of one of head coach Vince Lombardi's earliest press conferences and served temporarily as the home of Curly Lambeau and several players. The hotel was a social center in downtown Green Bay that hosted numerous banquets, dances, and football fans during its first 55 years of use. The hotel re-opened in 2019 after this award winning restoration.
The award recognizes the restoration of the lobby and ballroom featuring carefully restored woodwork, plasterwork, mosaic tile floors, chandeliers and coffered ceilings. The entire brick and stucco exterior was also restored and new copper clad marquees, mounted above the entrance, replicate what was there originally.
About the Restoration Award
The award goes to the best restoration work of a Wisconsin historic property that involves comprehensive work to restore a historic building, structure, object, or site.
Learn More
Learn how to nominate projects for this award.