General Information
Board of Curators Awards
Enlarge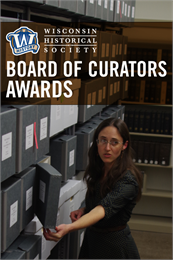 Wisconsin Historical Society Board of Curators Awards
The Wisconsin Historical Society announced the winners of the 2018 Board of Curators Awards on June 20, 2018. Read a press release naming the winners here.
The Society is now accepting submissions for the 2019 Board of Curators Awards. Submissions are due on March 15, 2019.
Please click on the specific award for more details:
Awards are reviewed by a committee of judges appointed by the Society and then approved by the Awards Committee of its Board of Curators. The judges reserve the right to make no award in any given year. The decision of the judges is final.
Learn More