Historical Essay
Muir, John (1838-1914)
Conservationist, Writer, Explorer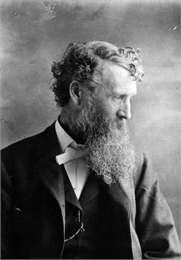 Farmer, inventor, sheepherder, explorer, writer and conservationist John Muir was America's most famous and prominent naturalist, exerting a powerful influence on American attitudes toward the environment. His words and advocacy inspired many national conservation programs, including the establishment of national parks. Muir was also the founder and first president of the Sierra Club.
Born in Dunbar, Scotland, on April 21, 1838, John Muir and his family immigrated to the United States in 1849, settling on a farm near Portage, Wisconsin. Muir's father, a harsh disciplinarian, worked his family from dawn until dusk, but whenever he could, Muir roamed the fields and woods, indulging his curiosity about the natural world. Muir was also an inventor, carving clocks and other practical devices from wood.
In 1860 Muir entered the University of Wisconsin but left after three years to travel the northern U.S. and Canada. While working at a carriage shop in Indianapolis in 1867, Muir suffered an eye injury that left him temporarily blind. Regaining his sight a month later, Muir resolved to leave the industrial world and spend the rest of his life turning his eyes to the land that he loved.
Muir spent the next few years indulging his wanderlust, walking a thousand miles from Indianapolis to the Gulf of Mexico, sailing to Cuba, and later to Panama, where he crossed the isthmus and sailed up the West Coast. Landing in San Francisco in March 1868, Muir was entranced by California, which became, from that moment on, his home.
Extolling the natural beauty of the Sierra Nevada Mountains and what would become Yosemite National Park, Muir had found the landscape that truly claimed him. A series of articles titled "Studies in the Sierra," published in 1874, launched his successful career as a writer. In 1880 he married Louie Wanda Strentzel and moved to Martinez, California, where they raised two daughters and managed a family fruit ranch. In 1892 Muir and his supporters founded the Sierra Club, with Muir serving as president.
Muir continued to travel too, going to Alaska several times, Australia, South America, Africa, Europe, China, Japan, and again and again to the Sierra Nevada. He also took more seriously to writing, publishing 300 articles and 10 major books that recounted his travels and his developing philosophy of nature. One of his books, The Story of my Boyhood and Youth, describes his childhood in Scotland and Wisconsin.
His series of articles in The Century Magazine drew attention to the devastation of mountain meadows and forests by sheep and cattle — and led, in large part, to the creation of Yosemite National Park. His book, Our National Parks, published in 1901, attracted the attention of President Theodore Roosevelt who, after meeting Muir, began promoting a series of innovative conservation programs. Muir was also personally involved in the creation of Sequoia, Mount Ranier, Petrified Forest and Grand Canyon national parks, justly earning the title "Father of our National Park System."
Muir and the Sierra Club fought many battles to protect Yosemite and the Sierra Nevada, including an ultimately futile battle to prevent the damming of the Hetch Hetchy Valley within Yosemite. In 1914 Muir died in Los Angeles.
Learn More About John Muir