News Release
Winter Wonder at the Wisconsin Historical Museum
FOR IMMEDIATE RELEASE
Surviving, Thriving and Playing in Winter: New Exhibit Evokes Warm Memories of a Cold Season
November 11, 2014
MADISON, WI- Do you fear winter's frigid temperatures, or look forward to snow-filled fun? For centuries stoic Wisconsinites have learned the best way to endure the harsh cold is by having a positive attitude. The Wisconsin Historical Museum's new exhibit, 'tis the season: Winterful Wisconsin, opening November 28, 2014 through January 10, 2015, explores how Wisconsinites both survive and enjoy the season through festive, snow-filled scenic displays featuring skates, sleighs, winter wear, and seasonal sporting gear from the early 19th century to the 1970s.
Also on view enhancing the exhibits nostalgia are popular Wisconsin-made aluminum Christmas trees as decorative backdrops, vintage amateur home movies, and the over-the-top 1969 Department of Natural Resources film Winterful Wisconsin, from which the exhibit derives its title.
Wisconsin's signature season is a mix of winter wonder and harsh extremes. 'tis the Season: Winterful Wisconsin chronicles some of the worst snowstorms in the state's history and then shows how hardy Wisconsinites clear the snow and dress for the cold. Objects on display range widely from an Ojibwe shovel to a 1940s snowsuit.
'tis the Season: Winterful Wisconsin tips its hat to hard-core badgers who thrive in temperatures others can't tolerate. The key to the climate is to have fun, and winter play, games and sports abound in the exhibit. Highlights include a progression of design in skates from the 1850s to the early 20th century and curator Leslie Bellais' personal favorite, the 1958 Mirro Sno Bronco by the Aluminum Goods Manufacturing Company in Manitowoc. According to the sled's advertisement in the exhibit, it rode fast and high off the ground, just like a real bronco.
Enlarge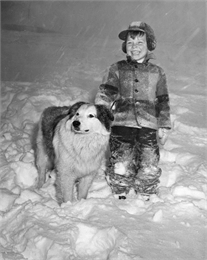 Boy North of Appleton, 1955
View the original source document: WHI 11447
Love it or dread it, winter is near. In true Wisconsin style, folks can make the best of it with an optimistic outlook and a visit to the Wisconsin Historical Museum this season. Grandparents can share memories with their grandkids, and downtown shoppers can get in the holiday mood. Whether you're new to Wisconsin and will be experiencing winter for the first time, or you're a die-hard Wisconsinite who's been through it all before, you'll be warmed by the winter nostalgia on display at 'tis the Season: Winterful Wisconsin.
About the Wisconsin Historical Museum
The Wisconsin Historical Museum is located at 30 N. Carroll St. on Madison's Capitol Square and is open Tuesday through Saturday from 9 a.m. to 4 p.m. Special Holiday Hours: December 1-23, Sunday 11am-4pm. Admission is by donation: $4 per adult, $3 per child or $10 per family. The Museum features four floors of exhibition space and a unique museum store. Call 608-264-6555 for more information, or visit us online at www.WisconsinHistoricalMuseum.org.
Media Contact and Resources
For interview requests, contact Ellen Pincus at 608-264-6566 or by email at ellen.pincus@wisoncinhistory.org.
Events at the Wisconsin Historical Museum
High-Resolution Images and Videos
View All News Releases for the Wisconsin Historical Museum
Learn More