Feature Story
2016 Governor's Award for Archival Advocacy Winner Announced
Enlarge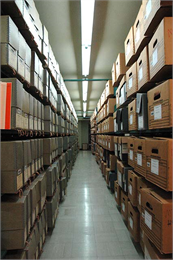 Archival Stacks
A row of archival stacks at the
Wisconsin Historical Society's
headquarters building in Madison
Mary Jane Herber of the Brown County Public Library has received the 2016 Governor's Award for Archival Advocacy from the Wisconsin Historical Society. The award is administered in cooperation with and the Wisconsin Historical Records Advisory Board. The award recognizes Herber's outstanding career of service and leadership. Since 1974 she has directed the library's local history and genealogy department.
About
Mary Jane Herber
Despite her modesty, Herber is known in both De Pere and greater Green Bay as the go-to gal when it comes to local history and local people. She's served on a variety of historical committees and boards over the years and is the president of the De Pere Historic Preservation Commission.
Herber carried her interest to the University of Wisconsin-Green Bay, where she majored in history and planned to be a teacher. She became a member of the De Pere Historical Society in early 1971 at that age of 20. During that time, she worked at the De Pere library (before Brown County consolidated the system) in summer, and when it became apparent there was a greater need for librarians than teachers, she changed her focus. In August 1973, Brown County opened its main library branch in downtown Green Bay, and Herber accepted a job there, where she's now a librarian and historian.
About the Archival Advocacy Award
This award honors an individual or organization in Wisconsin or elsewhere for notable contributions to archival programs through organizational leadership, public advocacy, and financial or volunteer support. The nominated individual or organization must be advocating for Wisconsin programs. The activity or contribution being nominated must be for work that is continuing.
The Wisconsin Historical Society and the Wisconsin Historical Records Advisory Board jointly sponsor the Governor's Archives Awards annually. A panel of judges from the Wisconsin Historical Society and the Wisconsin Historical Records Advisory Board recommended these organizations receive the award. The Wisconsin Historical Society's Board of Curators approved the 2014 Governor's Archives Awards.
Learn More
About the Governor's Archives Awards
About the Wisconsin Historical Records Advisory Board