Resource Description
About Our Social Action Collection
Enlarge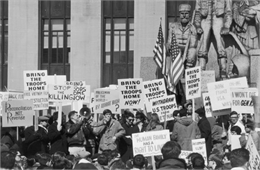 Anti-War Rally, 1966
Minneapolis, Minnesota. Anti-Vietnam War rally in Pioneer Park held as part of the Second International Days of Protest, March 25-26. View the original source document: WHI 54994
For nearly a century the Wisconsin Historical Society has documented the major sociopolitical issues and movements in the United States, as well as the state of Wisconsin. Today our Social Action collection is one of the nation's largest.
Learn more about this collection using the links below:
Collection Overview
From our beginnings as the first institution to collect labor and working class history, we have continued to identify and document the major issues of the day throughout the twentieth century, including:
Anarchism
Anti-Vietnam War
Civil Liberties
Civil Rights
Communism
Community Organizing
Contemporary U.S. Peace Movement
Free Speech
GI Rights and Resistance
The New Left
Reproductive Rights and Right to Life
Social Security and Entitlement
Socialism
Student Activism
Welfare Rights
Within Wisconsin we have also documented protest against nuclear power, environmental activism, the women's movement and the Native American treaty rights controversy.
How the Social Action Collection is Organized
Research materials in the Social Action collection can be found in both the Library and the Archives. Manuscript collections and photographs can be found in the archives collection. Books, serials and other publications can be found in the library collection.
Search Online
The library and the archives share an online catalogs used to describe their holdings.
Search in Person
The Library and Archives are free and open to the public. See more information on Visiting the Library and Archives.
Purchasing Copies
Researchers who cannot visit the Library-Archives may order copies by mail, fax or e-mail. We do not accept orders by phone.
See all details on Purchasing Copies
Social Action Collection Donations
The Society's Archives continues to accept collections that augment our existing holdings in aspects of social action including organized labor and social reform movements seeking to promote economic justice, Social Security and entitlements, civil rights, civil liberites, free speech, anti-Vietnam war protest and the New Left, community organizing, and peace and justice activism. The Archives also seeks collection that document the organic and sustainable foods movement in the United States.
See the Social Action Archives fact sheet (PDF, 116 KB) and more information on Donating an Item or Collection.
Learn More
Visiting the Library and Archives
Have Questions?
Contact our Library and Archives staff at 608-264-6535 or by email below:
asklibrary@wisconsinhistory.org