General Information
Explore the Latest Issue of "Columns"
The Newsletter of the Wisconsin Historical Society
Become a Subscriber
"Columns" serves as the agency's primary vehicle for communicating with members. Readers find information about Society staff, programs, resources and upcoming events.
Enlarge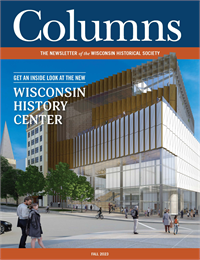 Click here to read the latest issue.
Go Paperless
You can receive "Columns" digitally, right in your email inbox. Going paperless is fast, easy, convenient, and it helps the Wisconsin Historical Society save on printing and postage costs so your support has an even greater impact. Sign up now.
2023:
2022:
2021:
2020:
2019:
Learn More
About the Wisconsin Historical Society