Historical Essay
Political Maverick William Proxmire - Image Gallery Essay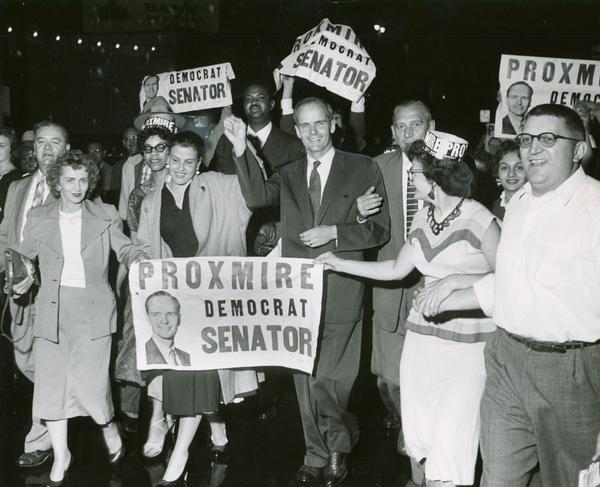 Victory for Proxmire, 1957
William Proxmire celebrates with his wife Ellen (to Proxmire's right), and a crowd of supporters in Milwaukee after his victory in a special election after the death of Senator Joseph R. McCarthy. View the original source document: WHI 30142
From 1957 to 1988, Democratic Senator William Proxmire represented Wisconsin in Congress. Widely regarded as a political maverick, Proxmire was known for his devotion to curbing governmental waste and mismanagement, issuing a monthly Golden Fleece Award for that month's most "wasteful, ridiculous or ironic use of the taxpayers' money." He chaired the Senate Banking, Housing, and Urban Affairs Committee, and the Joint Economic Committee, and served as subcommittee Chairman on the Senate Appropriations Committee. From 1967 to 1986, Proxmire also gave daily speeches on the Senate floor in support of the international genocide treaty, finally ratified by the U.S. Senate in 1988. Proxmire's 32-year career is the subject of this featured gallery of over 60 images.
Proxmire's Brief Biography
Edward William Proxmire was born in Lake Forest, Illinois, on November 11, 1915. He graduated from Yale University in 1938 and earned his MBA from Harvard two years later. During World War II, Proxmire served in the Military Intelligence Service. He returned to Harvard after the war to complete a degree in public administration and so impressed the faculty that he was asked to become a political science instructor.
Enlarge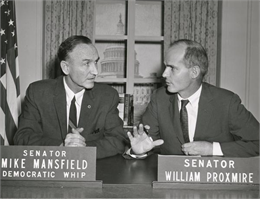 Senator Proxmire and Senator Mansfield
Senator William Proxmire of Wisconsin, and Senator Mike Mansfield of Montana, on the set of the Senate Recording Studio in Washington, D.C. View the original source document: WHI 30131
Proxmire moved to Wisconsin in 1949 to pursue a political career. His first campaign was a surprise victory in a 1950 race for a seat in the state Assembly. His personal approach to campaigning and limited spending became a signature feature of all his later campaigns. Opting not to run for reelection in 1952, Proxmire decided to try for governor on the Democratic ticket but was defeated. In 1957, Proxmire won his first major victory in a special election to fill the vacant seat of Senator Joseph McCarthy. Reelected in 1958, Proxmire went on to overwhelming victories in his subsequent campaigns.
Known for his expertise in banking, Proxmire authored the 1980 Bank Deregulation Act. Proxmire became widely known for his opposition to wasteful government spending, especially by the military. He led an ultimately successful fight in Congress against financing the supersonic transport plane in 1971. Governmental mismanagement was also the prime target in Proxmire's written work including Report from Wasteland (1970), Uncle Sam: the Last of the Bigtime Spenders (1972), and The Fleecing of America (1980). In each of his last two Senate campaigns, Proxmire refused to take any campaign contributions and spent less than $200 out of his own pocket on each campaign.
Proxmire retired from politics in 1988 and served as Honorary Chair of the Advisory Board of Taxpayers for Common Sense. Suffering from Alzheimer's disease, Proxmire died in Maryland on December 15, 2005.
Note: Read more about Proxmire's work regarding government and military spending and Genocide Convention Implementation Act by reading key documents on the Wisconsin Historical Society website.
View the Gallery