Historical Essay
Bird's-Eye Maps of Wisconsin - Image Gallery Essay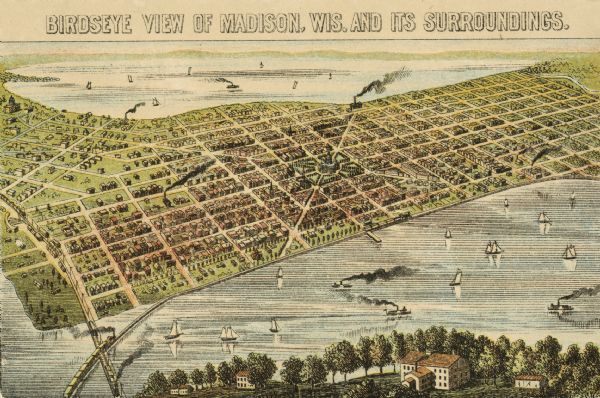 Bird's-Eye View of Madison, Wis. and Its Surroundings, 1870
Madison, Wisconsin. A bird's-eye map of Madison. The Lakeside House resort is in the foreground, which burned in 1877, in what is now Olin Park. View the original source document: WHI 12439
More than 200 panoramic drawings of Wisconsin cities and towns from the collections of the Wisconsin Historical Society are now available to browse and purchase. View all bird's-eye maps by clicking the link below, and narrow the search to specific cities and towns by using "Refine by Community" tab on left.
History of Bird's-Eye View Illustrations
Known as bird's-eye views, panoramas or perspective maps, these detailed illustrations were very popular with inhabitants of proud and growing communities during the latter half of the 19th century. Itinerant artists would walk the streets of a town and make sketches of its buildings. They were then assembled into a single drawing depicting the town's streets, houses and businesses, showing the community as if seen from above, hence the name "bird's-eye view."
Enlarge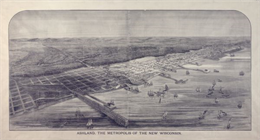 Bird's-Eye View of Ashland, 1885 ca.
Mining and lumbering provided the impetus for the development of northern Wisconsin and Ashland was ideally situated to become a leading city of the "new Wisconsin." View the original source document: WHI 11175
Once completed by the artist, the view of the city was printed and sold to local people who took pride in the representation of their home town in all its individuality. Since the primary market for the view was the residents themselves, accuracy was important; street names had to be right and buildings correctly portrayed. Because people expected their city or village to be depicted as thriving and prosperous, the artist added details like smoke streaming from factory chimneys, ships sailing the rivers or harbors and railroad engines busily hauling freight. Some views show their subject in great detail, even down to the number and placement of the doors and windows in individual houses. Such views can be valuable resources for local history and architectural research. Even if not completely accurate, all bird's eyes provide a uniquely American vision of the urban landscape.
View the Gallery