Historical Essay
Remembering McCarthy - Image Gallery Essay
A Visual Biography, 1908-1957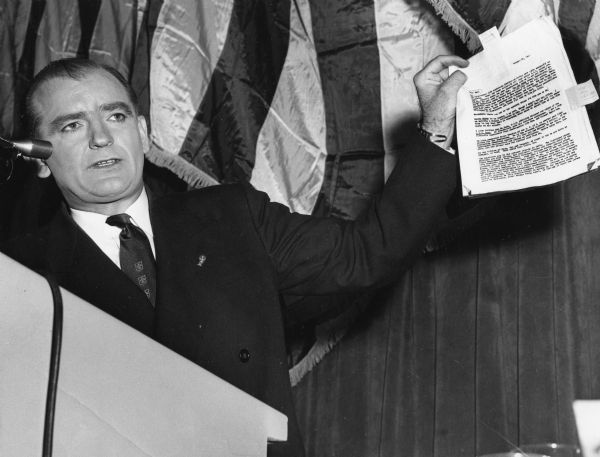 Joseph McCarthy with Report, 1952
Senator Joseph R. McCarthy of Wisconsin holding up a report on Democratic Presidential candidate Adlai E. Stevenson that linked him to a host of extreme left-wingers, even Alger Hiss. This address was broadcast on national television. View the original source document: WHI 47424
This gallery contains over 150 images of Senator Joseph R. McCarthy of Wisconsin. McCarthy served as a Republican senator from 1947 until his death in 1957. Images include portraits of McCarthy, documentation of campaign events, a few family photographs and materials related to campaigns and anti-communist rhetoric.
McCarthy's Notorious Legacy
Enlarge

McCarthy Match Book Cover, 1951 ca.
Match book cover distributed by the Superior Match Company of Chicago. The front cover says, "I like McCarthy and his Methods. I am with Joe McCarthy in his fight against treason and dishonor." The inside cover reads "I will not betray those who help me ferret out traitors - Joseph R. McCarthy. Strike a light for Freedom." View the original source document: WHI 47759
Wisconsin Senator Joseph McCarthy held the nation in his grasp with his anti-Communist rhetoric for four years in the early 1950s. To his enemies, McCarthy was evil incarnate, but to his supporters, he was an ardent champion of freedom. Elected to the U.S. Senate in 1946, Joseph McCarthy created a sensation in 1950 when he announced during a speech in Wheeling, West Virginia, that communist members of the State Department were influencing American foreign policy. At the time, communist expansion in Eastern Europe and Korea fueled Americans' anxiety that their way of life was under attack. Proclaimed just as Americans were preparing to fight in Korea, McCarthy capitalized on people's fears of encroaching communism to launch a public campaign aimed at eliminating the supposed communist infiltration of government.
Re-elected in 1952, McCarthy, as chair of a Senate Permanent Investigations Subcommittee, took it upon himself to expose communists and their sympathizers throughout all of American cultural and political life. The Subcommittee interrogated more than 500 people under his leadership, often refusing to reveal their sources of information under the veil of national security. In 1953, however, McCarthy took it too far when he accused the Army of harboring communists. The televised Army-McCarthy hearings that ensued exposed many Americans to McCarthy's bullying tactics and ruined his public reputation. The next year, the Senate officially censured McCarthy for "conduct unbecoming a senator." His ostracism from his party, coupled with chronic alcoholism, led to his death three years later.
View the Gallery
View all Joseph R. McCarthy Images
Learn More
'Joe Must Go: The Movement to Recall Senator Joseph R. McCarthy' in the Wisconsin Magazine of History
'The Anti-McCarthy Campaign in Wisconsin, 1951-1952' in the Wisconsin Magazine of History