Historical Essay
Picturing the Baraboo, Dells and Devil's Lake Region - Image Gallery Essay
Harry Ellsworth Cole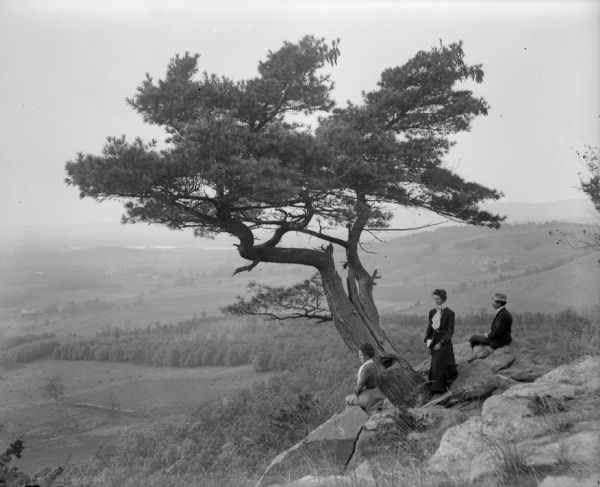 Rock of Gibraltar in the Richmond Memorial Park, 1902
West Point, Wisconsin. Two women and a man pose atop Gibraltar Rock in Richmond Memorial Park, which was dedicated by Jens Jensen and the Wisconsin Friends in 1927 in order to conserve the native landscape. View the original source document: WHI 11711
Harry Ellsworth Cole (1861-1928) was a "nature lover and history lover." That's how historian Louise Phelps Kellogg remembered her colleague in her forward to Cole's book, "Stagecoach and Tavern Tales of the Old Northwest." The collection of Cole photographs at the Wisconsin Historical Society reflects those two loves. Although a native of Indiana and a journalist by trade (Cole was co-founder and editor of the Baraboo Daily News), he worked tirelessly to document and preserve Sauk County's and Wisconsin's natural beauty and history. Cole photographed scenic views of the Dells and Devil's Lake area as well as geological features throughout Sauk County. By including people in a number of the views, he provided a frame of reference for both physical scale and historical context.
Preserving History with Photographs and Stories
Enlarge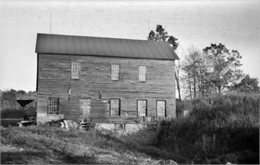 Falhenstern's Mill, 1924
Wisconsin. A deteriorating wooden structure with a stone foundation stands on an overgrown site. View the original source document: WHI 65136
In 1905 Cole helped found the Sauk County Historical Society and served as its president until his death in 1928. Cole recognized the irreversible changes that modernization brought. By the early 20th century, many of the dwellings, taverns and inns from Wisconsin's territorial and early statehood days stood abandoned and derelict. Others had been altered as styles changed or function dictated. Cole photographed many of those buildings, and the images constitute a large portion of the collection.
In addition to taking photographs, he collected stories of the historic inns from surviving early settlers and their descendants. He organized these as a magic lantern show and lecture which formed the basis for his book, "Stagecoach and Tavern Tales of the Old Northwest." The book, unfortunately, was incomplete when he died. At the request of Cole's wife, Dorothy, Louise P. Kellogg prepared the manuscript for its publication in 1930.
Other Examples of Cole's Contributions to Wisconsin History
Cole also compiled and provided photographic illustrations for the comprehensive "Standard History of Sauk County Wisconsin" of 1918 and for a guide to "Baraboo, Dells, and Devil's Lake Region." That booklet was first published in 1920 and reprinted several times over the next decade. Many photographs used in those publications are in the collection.
In 1920 Cole and several other professional men formed the "Heart of the Hills Walking Club." On Mondays during the winter months, club members would hike several miles from downtown Baraboo to a cottage at Devil's Lake for a noontime meal and a lecture or sermon by one of the group. The club's logbooks, also in the Wisconsin Historical Society's archives, include notes on the lectures and meals as well as photographs by Cole. These good-humored reports reflect the high spirits and broad interests of the members.
H.E. Cole was on the board of the Society's governing Board of Curators, serving as president at the time of his death. He was among the first class of recipients of the Lapham Medal awarded March 15, 1926. The medal, given by the Wisconsin Archaeological Society, recognizes "distinguished service in anthropological research."
View the Gallery
View all Harry Ellsworth Cole gallery images
---
Learn More
See more about these publications by Harry Ellsworth Cole: