Historical Essay
Gerhard Gesell's Alma - Image Gallery Essay
Mississippi River Town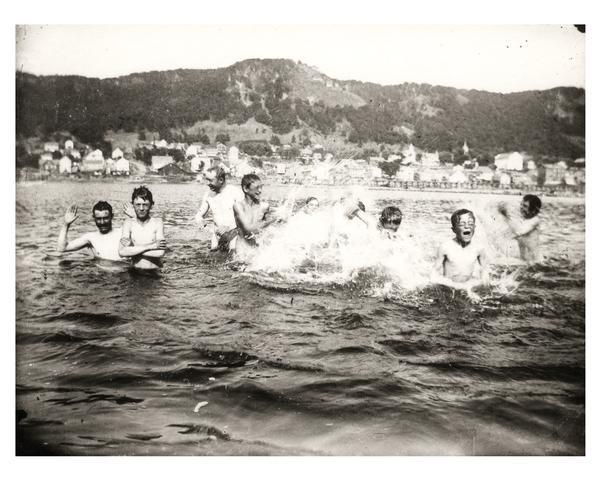 Swimming in the Mississippi River
Alma, Wisconsin. Men and boys swimming and splashing in the Mississippi River. Alma can be seen in the background. View the original source document: WHI 2083
Gerhard Gesell's prolific career as a photographer began in Reads Landing, Minnesota in 1873. In 1876 he relocated to Alma, Wisconsin, located along the Mississippi River bluffs in Buffalo County. He opened his own photography studio at 401 South Main Street. Gesell carefully documented the town, its people and culture, capturing the integral role the Mississippi River played in the lives of the people of Alma.
Mississippi River's Natural Beauty and Character of Small Towns
While Gesell did take studio portraits, his finest work was done in the field. Rather than have his subjects come to him, Gesell frequently went to them, capturing Alma's townspeople swimming, boating, birling logs and harvesting ice, among other things.
Gesell captured the natural beauty and utilitarian nature of the Mississippi River and the unique features of small towns nestled between the river and the nearby bluffs.
Of particular interest are his photographs of logging operations at Beef Slough, once one of the world's largest lumber sorting and rafting works. Beef Slough Manufacturing, Booming, Log Driving & Transportation Company employed more than 600 men in the 1880s, a time when the population of Alma was about 1,500. Today, the waterway through which much of Wisconsin's original pine forest timber passed is a mere trickle due to damming upriver. Its usefulness long past, Gesell's photographs ensure that this stretch of river and the role it played are not forgotten.
Of course, the river was not only used for transporting logs. Steamboats were the primary means of moving goods and passengers between North and South throughout the 19th century and into the 20th century. Gesell preserved for posterity these once ubiquitous river sights as well.
A Snapshot of Gerhard Gesell's Life and Family
Gesell (pronounced guh-ZEL) was born in Germany. He came to Minnesota, where two of his brothers already lived, in 1863. Shortly after arriving, Gesell enlisted in the army and served with Brackett's Battalion of the Minnesota Cavalry in the western frontier until the end of the Civil War.
Returning to Reads Landing after the war, Gesell worked as a saloonkeeper until he became a photographer in 1873. After moving to Alma and opening a photography studio, he married Christine Giesen in 1879.
The couple had five children: Arnold, Gerhard Jr., Robert, Bertha, and Wilma. Their eldest son, Arnold, became well-known nationally in the field of psychology and infamous in Alma for an unflattering portrayal of his hometown in an article titled "Village of a Thousand Souls." Arnold's son and Gesell's grandson, also named Gerhard, became a judge for the Federal District Court in Washington, D.C., where he presided over several significant cases including the Watergate scandal, the Iran-contra affair, and the release of the Pentagon Papers. Judge Gesell was a strong civil libertarian who stood against the abuse of governmental power.
Gesell's family is well represented in the collection of photographs. One can trace the children from infancy to adulthood through the photographs. We get a glimpse into family traditions as well as the family's sense of humor and fun.
View the Gallery
View all Gerhard Gesell photographs
Browse the Images