Historical Essay
The Winther Motor Company in Kenosha, Wisconsin - Image Gallery Essay
A Collection of Photographs
Winther Motor Company, Factory Interior, 1921
Truck Assembly Room at the Winther Motor and Truck Company factory. View the original source document: WHI 32854
This gallery of nearly 50 photographs of the Winther Motor Company's plant in Kenosha, Wisconsin give unusual insight into manufacturing at the time. From 1916 to 1927, the company manufactured trucks and automobiles, most of them four-wheel drive vehicles. Sixteen detailed interior shots show men working in the blacksmith shop, parts storerooms, and assembly rooms, using belt-driven machines to construct vehicles and their internal parts. Nineteen images show finished products, including snow plows, mechanical posthole diggers, rail cars, and street cars. Eight photos of the business offices show president Martin P. Winther, engineers, clerks, and secretaries. Three exterior images give an idea of the size of the plant, one of which is an excellent group photo of over 100 employees.
The Winther Family's Journey to Wisconsin
Enlarge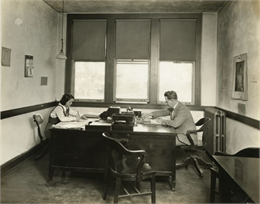 Winther Motor Company Founder, 1921
Kenosha, Wisconsin. Martin P. Winther, Winther Motor Company founder and inventor, in his office. View the original source document: WHI 32849
The story of the Winther Motor Company is the classic "rags to riches" tale of an immigrant overcoming adversity to accomplish the American dream.
The three-year-old boy who would later be known as Martin Phillip Winther arrived at Ellis Island, New York, on June 10, 1892 with his parents, Jens and Mette Marie Pettersen, and his brother Anton. They had left Sjelle, Aarhus, Denmark to come to America on the steamship "Gallia" by way of Liverpool, England. Jens gave his occupation as "snedker" (carpenter), and their stated destination was Manitowoc, Wisconsin, where Danes had been settling since the 1840s.
The family lived first in a 50-year-old log cabin in Manitowoc County, then moved in 1898 to Neenah in Winnebago County. In the 1900 Census, the family was renting a house at 224 Smith Street in Neenah; they were now going by the surname of Winther (a Danish farm or place name). Two sons and two daughters had been born since their arrival, and Jens gave his occupation as "house painter." Tragically, Jens died in 1901 at only age 43, leaving his widow - now known as Mary - with six children; Martin was the oldest at age thirteen.
Enlarge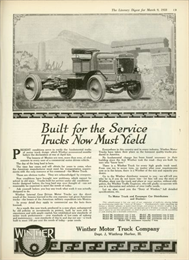 Winther Truck Advertisement, 1918
Advertisement for a truck made by the Winther Motor Truck Company. View the original source document: WHI 45367
In 1902 the family moved to Kenosha, and in the 1903 City Directory, Mary Winther was living at 464 Crate Street; her occupation was given as "knitter" (perhaps in one of the city's textile mills). Martin was listed separately at the same address, with the occupation of "laborer" - at age fifteen he was already working to help provide for his family, as an apprentice machinist at the Thomas B. Jeffery Company, which in 1902 had begun manufacturing the Rambler automobile. By 1906, his brother Anthony was working, too. In the 1910 Census, both brothers were "toolmakers" in an "automobile shop," still living with their mother in the Crate Street house (which they owned with a mortgage).
In the 1904-05 Kenosha Directory, Martin was working as a "machine hand" at "Jeffery's." He was instrumental in engineering a four-wheel drive truck the company debuted in 1913, the Jeffery Quad, used extensively by the U.S. armed forces during World War I. Thomas B. Jeffery died in 1910, and in 1916 his family sold the manufacturing business to Charles Nash, who renamed the company Nash Motors. At that time, the Jeffery Company was one of the first vehicle manufacturers to utilize assembly-line production, and the factory operated around the clock, with 2,600 employees who were reportedly paid well. However, Nash decided to discontinue the production of trucks, which were Martin's main interest.
About the Winther Motor Company, Kenosha
The sale of the Jeffery Company provided Martin with motivation to strike off on his own, so in December 1916 he incorporated his own business in Kenosha, the Winther Motor and Truck Company, with his brother Anthony working for him. The first 500 Winther automobiles (of an order of 5,000) were shipped to Australia in 1917, but World War I forced cancellation of the rest of the order. The company turned to the production of trucks, its rear-drive Winther closely followed by the four-wheel drive Winther-Martin. In 1918 the company received a contract from the U.S. Army to assemble four-wheel drive vehicles, from parts provided by other manufacturers. The company's lighter trucks were used by farmers, while heavier models were created for logging, firefighting, and use as snowplows. In 1921 the Kenosha plant was at the intersection of what was then Putnam and Milwaukee Avenues (now 31st Street and Sheridan Road). A second plant was opened at Winthrop Harbor, Illinois, just over the Wisconsin/Illinois bordeer, about ten miles south of Kenosha.
Enlarge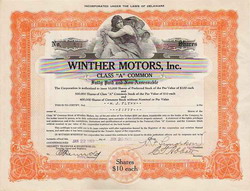 Winter Motors Stock Certificate, 1923
This certificate indicates that shares were sold at $10 each. Source: eBay.com on 10/24/2006.
After WWI ended, surplus military trucks were abundant, eliminating the need for new trucks. From 1920 to 1922 the company manufactured the sporty Winther automobile, employing about 200 people. Beginning in about 1920, electric starters were added to most of their vehicles. In 1923 Martin re-incorporated in Kenosha as the Winther Motor Company, and began using the Winter-Kenosha name for most products. In 1926 the company reorganized again as the Kenosha Fire Engine and Truck Company, with a focus on firefighting vehicles. But apparently Martin Winther's interest in manufacturing vehicles faded along with the truck market, and in 1927 the company was sold to H.P. Olsen.
In about 1925, Martin Winther moved his family to Waukegan, Illinois, only twenty miles south of Kenosha. In 1932 he formed the Dynamatic Corporation in Kenosha to manufacture drive machines for Pullman air conditioning systems. Following the sale of Dynamatic to the Eaton Corporation in 1946, Martin became vice president in charge of engineering for that firm.
In 1952 Martin Winther and his first wife, Marcella, built a vacation home on Lake Minnehaha at Clermont, Florida, and moved there permanently after his retirement in 1956. His brother Anthony followed two years later. But that didn't mean that Martin stopped inventing; the last patent granted in his name was in 1968 (when he was eighty years old) for a "process and apparatus for cueing orators."
Martin P. Winther died March 18, 1982 in Clermont at age 93. His brother and inventing partner, Anthony, who was born two years after Martin and had moved to Clermont two years after Martin did, also died two years after Martin at age 93.
Enlarge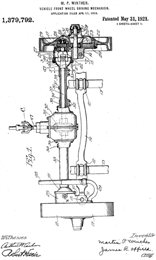 The Earliest Patent, 1918
The earliest U.S. patent was filed in Martin P. Winther's name for a Front Wheel Driving Mechanism. View the original source document: US Patent 1,379,792 (PDF, 337 KB)
The Winther Brothers and Technological Innovation
Although Martin and Anthony only attended school through the eighth grade, they had evidently learned a lot on the job at the Jeffery Company. Since about 1920, they were granted patents for almost 300 car and truck-related mechanical devices. These included the first successful air conditioning system for Pullman railroad cars, a builder's hoist, a four-wheel-drive post hole digger for AT&T, the first induction coupling, a magnetic clutch, a cycle-car, variable-speed transmission gears, an isomeric pole magnet, as well as a giant press drive, brakes and couplings for the oil field industry. Martin and Anthony also invented and manufactured a new type of high speed, high power dynamometer capable of far surpassing those currently in production, which could not turn fast enough for the new turbine engines used in aircraft, wind tunnels and high speed automobiles.
Though they were prolific inventors, the Winther brothers modestly described themselves as "technical entrepreneurs." They exemplified the spirit of technological experimentation nurtured in early small shops and the larger factories that grew from them, especially during World War I. Today's technology is so advanced beyond Martin and Anthony's day that a doctorate in engineering is usually required in order to invent something new. But when the Winther brothers were young, they saw what was needed, and their enthusiastic creativity lead to the invention of new mechanical devices to accomplish the innovations they envisioned.
View the Gallery