Historical Essay
Interweaving the Autobiographical, the Philosophical and the Visual - Image Gallery Essay
Photographs by Richard Quinney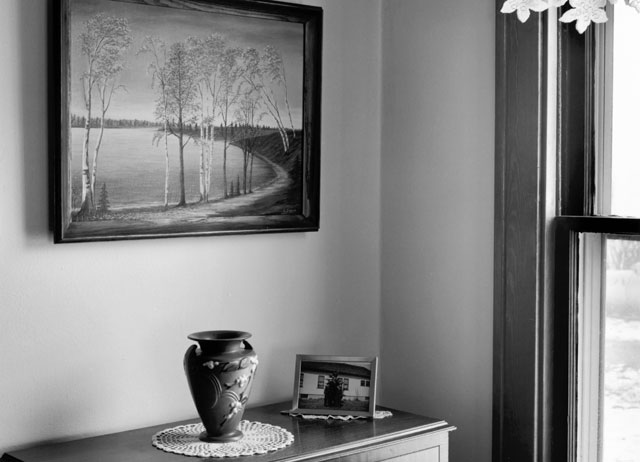 The Living Room, 2001
Delavan, Wisconsin. The interior decor of the living room in the Quinney farmhouse. View the original source document: WHI 47293 View the original source document: WHI 47293
Some of my best times are when I can see clearly through the glass of the viewfinder.
Richard Quinney
Richard Quinney has spent more than 40 years documenting his life, time and community through photography. This image gallery consists of over 130 black-and-white photographs from Quinney's retrospective book of photographs "Things Once Seen." Explore the gallery using the link at the bottom of this article.
Accompanied by his journal notes, this collection of photographs comprises the six chapters of "Things Once Seen," which document what Quinney once saw and the life he has lived, arranged chronologically by chapter. Throughout the geographically wide-ranging collection, the images capture a sense of quiet observation of place. They feature objects, locations and the occasional person or animal. Locations include areas in New York City, North Carolina, Rhode Island, Maine, Illinois, Paris, Norway, Nepal, England and Quinney's childhood home, Walworth County, Wisconsin.
Interweaving the Autobiographical, the Philosophical and the Visual
Over the course of these image collections, the development of Quinney's distinctive style, which conveys a singular feeling of simultaneous repose and attentiveness, becomes apparent and more pronounced. Within this style, the still-life compositions of objects and settings evoke an observant grounding in place.
Augmenting the reflective and calm quality of the images, Quinney interweaves his photographs with contemplative text. In descriptive and philosophical passages, Quinney explains the location and context of the photo as well as discusses his thoughts on photography. Drawing on other photographers such as Susan Sontag, philosophers such as Roland Barthes, and Buddhist teachings, Quinney considers how the photographer's art both arrests and underscores the relentless flow of time and relates how he seeks to observe the world attentively. Evocative and thematic section and chapter arrangements further develop his thoughtful and multilayered approach.
Enlarge
North of the Farmhouse, 2001 ca.
Landscape view from the country road north of the Quinney farm. View the original source document: WHI 47290
Observing the world around himself and his own movement through it, Quinney develops a unique autobiographical technique, which finds its greatest expression in his presentation of his relationship to his family's farm. Figuring throughout his work as a place of origin, return and sustained connection, the farm in Walworth County that he grew up on reappears in his work each time with a new or altered significance.
Autobiographical Writings and Photographs
A well-known sociologist noted for his philosophical approach to criminology, Quinney taught at universities throughout the United States before returning to the Midwest with his family to explore his home once again.
Enlarge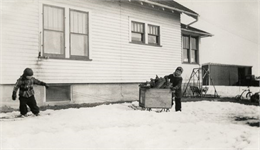 Richard and Ralph Quinney Haul Firewood, 1939 ca.
Young Richard and Ralph Quinney hauling firewood on a sled through the snow past the farmhouse. Image included in Of Time and Place: A Farm in Wisconsin chapter three, "The Farm." View the original source document: WHI 71310
Quinney has published several books that combine his autobiographical explorations of place and home with photography. These books include "Journey to a Far Place," "For the Time Being," "Borderland," "Once Again the Wonder," "Where Yet the Sweet Birds Sing," "Of Time and Place," and "Tales of the Middle Border." His most recent book, "Things Once Seen," contains photographs Quinney donated to the Society's permanent collection.
Quinney documented his experience of the world through photography and autobiography. These photographic and autobiographical works thoughtfully examine his roots in Wisconsin as well as present his view of the world as he routinely traveled away from his childhood home and returned. The reflective and composed collections of photos that result from this method help Quinney present his perspective of the world around himself.
As Quinney relates in his book, "Of Time and Place: A Farm in Wisconsin," his ancestors emigrated from Ireland and England and settled in southeastern Wisconsin. He was born on May 6th, 1934 and grew up on his family's farm in Walworth County. He earned his bachelor's degree from Carroll College, a master's in sociology from Northwestern University and his PhD in sociology at the University of Wisconsin. In 1958 he married Valerie Yow and they had a daughter, Laura, the next year. A second daughter, Anne, was born in 1970. He taught at a number of universities, most extensively at Northern Illinois University from 1983-1998. In 1991, he married Solveig Holmes.
I have spent a lifetime, after leaving the farm, moving from one place to another. Along the way, the treasure of being at home in the world has been approached with the eye as much as the mind. Seeing the world visually has been a resource for me from the very beginning. Within the viewfinder of the camera, I have framed my existence
Richard Quinney
Page 1, "Things Once Seen"
Richard Quinney forged a prominent career as a sociologist. He developed a Marxist and conflict theory approach to criminology that highlights the role of power imbalances in the process of the criminalization of deviance. His later work focused on non-violence and Buddhist approaches to conflict resolution.
After retirement, Quinney and his brother Ralph began a project to revitalize his family's farm using sustainable agriculture and he founded the small press, Borderland books, which publishes his and others' books in traditional art and craft style printing.
Note: More information about Quinney and his work can be found at the website of his small press, Borderland Press. View the catalog listing for the Richard Quinney papers. Additionally, many of Quinney's scholarly and autobiographical books can be accessed through the Wisconsin Historical Society's library and the University of Wisconsin's library. See information on Visiting the Library and Archives.
View the Gallery
View all photographs from "Things Once Seen"
Learn More
View photographs from "Of Time and Place: A Farm in Wisconsin"
View Quinney's photographs of the construction of the World Trade Center, 1969