Historical Essay
David Marcou's Images of Wisconsin Life - Image Gallery Essay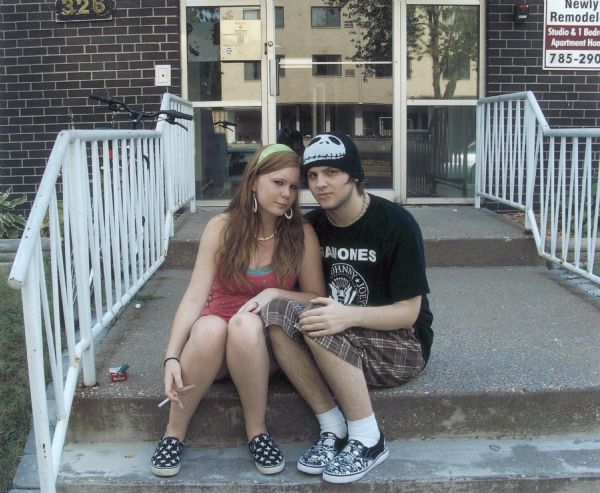 Crystal and Friend, 2007
La Crosse, Wisconsin. Portrait of a young woman, Crystal, and her friend, sitting on the steps of 326 South 7th Street. The friend is wearing a Ramones t-shirt, a hat, and shoes adorned with skulls. View the original source document: WHI 58013
David Marcou's photographs are mainly "lens-gathered from found life," a philosophy he's had for more than 30 years. Much of his work embodies a holistic presentation of Wisconsin life. Marcou uses a variety of subjects including street scenes, local personalities, businesses and political campaigns, primarily in La Crosse. While many photographers neglect the mundane, Marcou's work celebrates the richness of everyday life in La Crosse and around the world. He does not generally invent or overly direct his subjects or otherwise insert his personality into his photographs. Marcou prefers to express the authenticity of life by his spontaneous style for street and event photos. In his own words, "[I] let the life of each subject flow into my lenses, as is, and shine forth from the images I've gathered."
Marcou's Inspiration
Enlarge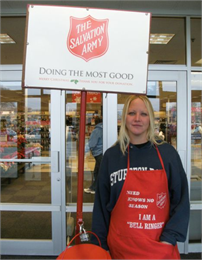 Salvation Army Bell Ringer, 2009
La Crosse, Wisconsin. A female Salvation Army bell ringer poses outside Shopko. View the original source document: WHI 78525
He gains inspiration from the British photographer Jane Bown, who also shares a similar approach to creating art. Other photographers who he feels have influenced his work include Bert Hardy, Henri Cartier-Bresson, Dorothea Lange and Edward Steichen. Although he has photographed most of his recent work in color, he often publishes them in black and white, preferring an emphasis on the underlying patterns of light and the simplified image.
A Prolific Photographer
Marcou has made a name for himself through his publishing efforts. He is the principal author & publisher of more than 125 books, including 40+ volumes in the award-winning "Spirit of America" series, as well as more than 1,000 written pieces and more than 2,000 photos. His work has appeared in major media sources including the British Journal of Photography, RPS Journal, The New York Times and Smithsonian Magazine. He has exhibited his work in La Crosse, Madison, in Seoul, South Korea, and elsewhere.
David Marcou is a writer, father, former college instructor, and a Wisconsin photographer. He retains all rights in these photographs, which can only be reproduced with his permission.
View the Gallery