Historical Essay
Brandel and Jones Family Gallery - Image Gallery Essay
Snapshots of Daily Life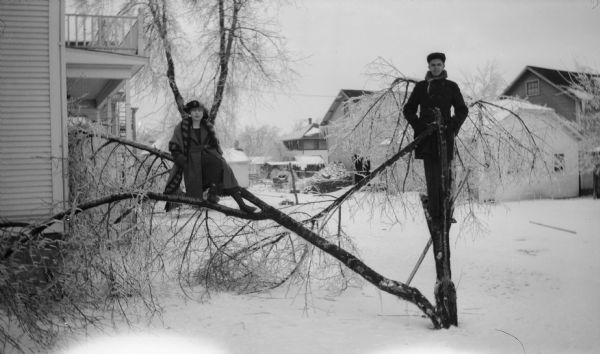 Harman Warner and Ethel Walker in Tree
Randolph, Wisconsin. Harman Warner and Ethel Walker pose in the branches of a broken tree in winter. They are in the backyard, and houses can be seen behind them. View the original source document: WHI 60902
Informal snapshots, the kind typically found in family photo albums, aren't often considered historically or artistically significant, tending to be important only to the photographer and his or her family. This small collection of family photographs transcends that notion, however, depicting the Randolph, Wisconsin, family simply and in their natural, everyday lives — posing at home, on Fox Lake or at the golf course, with their dog, in groups, and in front of the Christmas tree. At the same time, the images — which also include shots of plastic rabbits, women in undergarments and other spontaneous moments — capture not only family history, but Wisconsin history, artistic beauty and often a strange and beguiling charm.
About the Collection
Mary Brandel Hopkins donated 238 snapshot negatives of her family and friends to the Society in 1977. Many of the photos, taken from about 1919 to 1936, are of Mary, her parents, Edward Walter Brandel (known as E.W.) and Mary Jane (Jones) Brandel, her twin uncles Dr. Arthur W. Jones and John O. Jones, and the omnipresent dog, Max. We feature 72 of the most interesting photos in this gallery.
The Brandel and Jones Families
The Brandel and Jones families exemplify the dream of many late-19th-century immigrants — those who did well enough that their children (and grandchildren) could attend college and become professionals. Mary's grandfather on her father's side, John Christian Brandel, came from Germany to Wisconsin in 1852 and became a minister, overseeing seven different congregations in his life. Mary's grandfather on her mother's side came from Wales and became a doctor.
Mary was born in 1907 in Randolph. Her father worked in banking, first as a cashier and then as president of Randolph State Bank and of Friesland State Bank. Mary was an only child and attended the University of Wisconsin, where she graduated with a bachelor's degree in journalism in 1927 and a master's degree in 1928. Fresh out of college, Mary became the society editor for The Capital Times. She married Minneapolis chemist James D. Hopkins in 1938, with whom she had two children.
Mary left the newspaper briefly to raise her family but returned to Madison in 1941 to resume her career as the women's editor for The Capital Times, a position she held for the next 35 years. Her husband James was founder and president of the Hopkins Agricultural Chemical Company, first in Randolph and later in Madison.
The full collection of Brandel-Jones family photographs is available for viewing in the Archives on the 4th floor of the Society's headquarters. There is also a genealogical research file on the Brandel and Jones families in the Archives.
View the Gallery