Historical Essay
Paul Vanderbilt's Landscapes - Image Gallery Essay
Rural Wisconsin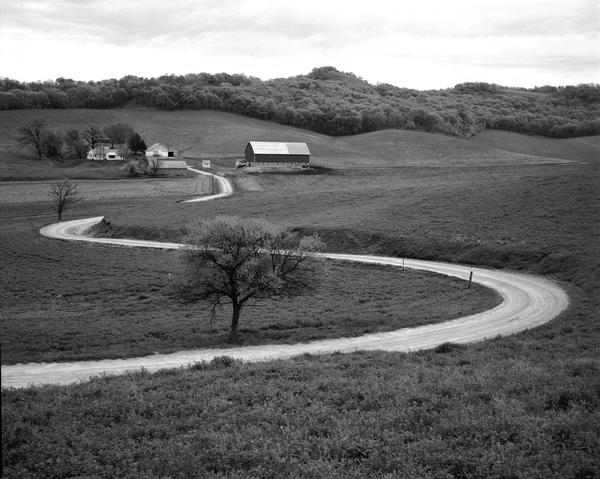 Winding Farm Road, 1963.
Gilmanton, Wisconsin. Winding farm road and distant farm with tree-covered hill in the background. View the original source document: WHI 10471 View the original source document: WHI 10471
The Wisconsin Historical Society has digitized more than 400 photographs taken by Paul Vanderbilt, one of the premier landscape photographers of the 20th century. The images were made primarily in the central and western regions of Wisconsin and include small towns, farmlands and views along the Wisconsin and Mississippi Rivers. There is a wooded hillside shrouded in early morning fog near Spring Green, a winding farm road near Gilmanton, fishing boats in Algoma, a round barn in Ontario, the Washington Island shore and a churchyard in Norwalk. The images, most made on large format black and white film, capture the essence of the rural Wisconsin landscape.
About Paul Vanderbilt
Enlarge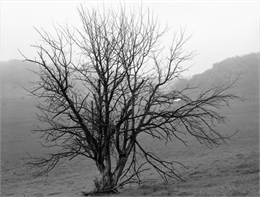 Tree in Rain, 1960
Black Earth, Wisconsin. Photographed by Paul Vanderbilt. View the original source document: WHI 10491
Paul Vanderbilt (1905-1992) served as Wisconsin Historical Society curator of visual materials and field photographer from 1954-1972. He was primarily responsible for building and organizing the Society's world-renowned photograph collection.
Vanderbilt received a degree in art history from Harvard University in 1927. He then intended to pursue a career as a museum art curator, but photography caught his attention and became his love. After an early career working with Farm Security Administration photographs taken during the Great Depression, he came to the Society to organize and build its collections.
Paul Vanderbilt was an extraordinary artist who brought a poetic, psychological and philosophical perspective to his interpretation of images and his work as a photographer. His work successfully captures the subtleties of light and shadow to reveal the textures of ground, foliage and buildings, and the visual patterns of the landscape to create stunning images of Wisconsin.
About the Vanderbilt Collections
Enlarge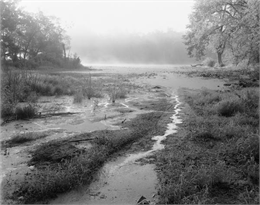 Wisconsin River Swamp, 1961
Wauzeka, Wisconsin. A swamp in the Wisconsin River. View the original source document: WHI 10486
The Paul Vanderbilt Papers, 1954-1990 are the official papers of curator, photographer, and author Paul Vanderbilt. They contain 1906 photographs, 289 negatives, 2 tape recordings, and 47 transparencies, totaling seven cubic feet of materials. They also include a photocopy of his diaries, dating ca. 1954-1990 (with gaps), panel projects, art photographs, negatives, slides, cataloging experiments, lectures, articles, publications, and exhibition posters. Also included are photographs from projects done by Vanderbilt in his position as curator of the State Historical Society of Wisconsin's photograph collections.
The Paul Vanderbilt subject files, 1951-1971 contain the administrative materials of Vanderbilt, the first curator of the Historical Society's Iconographic Collection. The collection consists of 10 archives boxes and 2 card boxes of subject files, mainly from 1954-1965. It includes correspondence, memoranda, reports and writings, reference material, product samples, photographic tests, notes, and reference materials pertaining to the organization of the section, its operation, and the cataloging, exhibit, and promotion of its collections. Prominent correspondents include Ansel Adams, Roy Stryker, George Talbot, and Franklin Wallick, as well as Society administrators Leslie J. Fishel, Jr., J. W. Jenkins, Clifford Lord and Don McNeil. Numerous films and photographs produced by Vanderbilt as head of Iconography are separately cataloged in the Visual Materials Section.
Note: The Paul Vanderbilt Papers, 1954-1990 and Paul Vanderbilt's subject files, 1951-1971 are available to the public during regular Archives hours. See information on Visiting the Library and Archives.
To find books written by Vanderbilt, visit the library catalog records for these titles: 'Between the Landscape and Its Other,' 'Filing Your Photographs: Some Basic Procedures,' 'Guide to the Special Collections of Prints & Photographs in the Library of Congress,' and 'Paul Vanderbilt.'
View the Gallery
View all Paul Vanderbilt images
---
Learn More
Paul Vanderbilt's Wisconsin Thematic Panels - Image Gallery Essay
Learn more about the experimental style of Paul Vanderbilt.