General Information
Student Activity Guide for Wisconsin: Our State, Our Story
'Wisconsin: Our State, Our Story'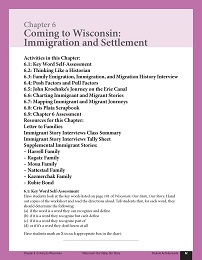 (PDF, 42 Pages, 4.13 MB)
View sample pages from Chapter 6 of the Student Activity Guide for "Wisconsin: Our State, Our Story"
---
Student Activity Guide - 'Wisconsin: Our State, Our Story'
By Bobbie Malone and Mary Mullen
DVD: $39.95
ISBN: 978-0-87020-797-6
252 pages, 8.5" x 11"
300 illustrations
Digital Download: $39.95
ISBN: 978-0-87020-821-8
DVD requires Adobe Reader 9.3
The accompanying student resources are designed to enhance the available learning opportunities in Wisconsin: Our State, Our Story. Each of the twelve chapters is packed with primary source research opportunities for Wisconsinites of all ages and is designed to meet or exceed Department of Public Instruction Social Studies Standards for students in grades 3–5.
Features of the Student Activity Guide
Primary Sources at Your Fingertips

Students will see fascinating excerpts from letters, journals, and autobiographies as well as pictures, maps, and other documents presented in small, easy-to-teach chunks.

Activities for Every Learning Style

Cross-curricular activities make the textbook material accessible to all learners. These include drawing, hands-on work, modeling, simulation, computer/Internet, map-work, drama, games, and music.

All Activities Now on DVD

The DVD includes all of the textbook's Student Activity Guide materials in a digital format, for both print outs and smart boards. Along with the DVD, you'll also receive the "Thinking Like a Historian" instructional video and additional textbook activities. If you purchase a classroom set, you'll be able to choose between the printed or digital Student Activity Guide.
Learn More
This definitive Wisconsin history textbook from the Wisconsin Historical Society is full-color, visually stunning, and promotes strong literacy skills.
Have Questions?
Contact our helpful staff about implementing the textbook in your classroom.