Guide or Instruction
About the Public Program Award
Submission Guidelines
Enlarge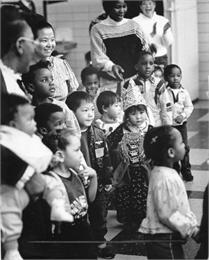 Ethnic Pride Day, 1989
This celebration highlights Laotian, African, Hmong, Indian, Hispanic and American heritages. It is part of Next Door foundation's Early/On Home Start program.
The program provides home-based education and support to low-income families with children under age 5.
View the original source document: WHI 7196
The Wisconsin Historical Society invites nominations for an award that honors outstanding work in a new Wisconsin history public program. The Public Program Award is presented to a Wisconsin organization that has launched an exceptional history public program during the preceding year.
Eligibility
To be eligible for consideration, the sponsorsing oganization must be located in Wisconsin. The nominated program must have taken place in Wisconsin and had the majority of programming occur during the previous calendar year; must deal with a Wisconsin history subject; and must be open to the public. Programs requiring membership in an organization to participate are not eligible for consideration.
Examples of eligible programs include history festivals; workshops; seminars; reenactments; historical walking, bus, or bicycle tours; historical readings combined with discussion; and film screenings combined with discussion.
Award Criteria
Nominees will be evaluated based on demonstrated excellence in the following areas:
Authenticity and scope of research
Attention to program management
Creative ideas and approaches
Effectiveness of delivery and overall impact of program
Community involvement
Connection to Wisconsin history
Due Date
March 10 of each year (postmarked or delivered)
How to Apply
Nominations must be submitted on the nomination form (PDF, 205 KB). Please attach to the nomination form a narrative not to exceed three single-spaced pages describing the following:
Program Description: activities, research, budget, staff, technique and connection to Wisconsin history.
Program Achievements: effectiveness of delivery and overall impact of program on target audience.
Program Documentation: brochure, schedule, news clippings, photos, etc. that document the program.
Send applications to
Local History - Public Program Award
Wisconsin Historical Society
816 State Street
Madison, WI 53706
Awards are initially reviewed by a committee of judges appointed by the Society and then approved by the Executive Committee of the Board of Curators. The date and presentation of the award will be made at a time and location convenient for the recipient. Employees and members of the Board of Curators of the Wisconsin Historical Society are not eligible to receive awards.
Recent Award Winner
Read about the recent Public Program Award winner.
Have Questions?
For more information, contact Janet Seymour at 715-836-2250 or write to the address above.