Guide or Instruction
About the Book of Merit Award
Submission Guidelines
Enlarge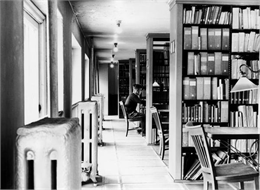 Library Stacks, 1948
A young man studying at a table in the library stacks. View the original source document: WHI 26479
The Wisconsin Historical Society invites submissions for the Society's annual Book of Merit Award, to be awarded in June of each year.
The Book of Merit Award is given to the author of a book on Wisconsin history which, in the opinion of the judges, made the most valuable contribution to public understanding of Wisconsin's past during the preceding calendar year.
Authors and publishers are encouraged to nominate their own works. Genealogical books are excluded from consideration because their authors should submit them under our Genealogy-Family History Book Award category instead.
Eligibility
Books must meet all of the following requirements to be considered:
The book must have been published in the calendar year preceding the award
It must be commercially distributed to the public through well-established channels such as bookshops, retail stores, or Amazon.com
A printed edition of at least 100 copies must have been published
The printed volume must contain at least 50 pages
Its subject matter must primarily concern events from Wisconsin's past
Award Criteria
Judges will assess each book's merits according to the following criteria, so far as each may apply to the book in hand:
Factual accuracy and documentation
Quality of the writing
Research methodology
Graphic design
Impact on the reading public
Overall contribution to the printed record of Wisconsin history
Awards are reviewed by a committee of judges appointed by the Society and then approved by the Executive Committee of the Board of Curators. The judges reserve the right to make no award in any given year. The decision of the judges is final.
Due Date
March 10 of each year (postmarked or delivered)
How to Apply
Nominations must be submitted on the nomination form (PDF, 117 KB) and be accompanied by three copies of the book and three copies of any reviews that have been published. The books and reviews may not be returned to the applicant.
Send applications to:
Wisconsin Historical Society
Attention: Angela Titus
816 State Street
Madison, WI 53706-1482
Recent Award Winner
Read about the recent Book of Merit Award winner.
Have Questions?
For more information about this award or to obtain a printed nomination form by mail, contact Angela Titus, Assistant Deputy Director and Chief Program Officer at angela.titus@wisconsinhistory.org or by phone at 608-264-6434, or by writing to the address above.