Historical Essay
Madison People's Poster and Propaganda Collection - Image Gallery Essay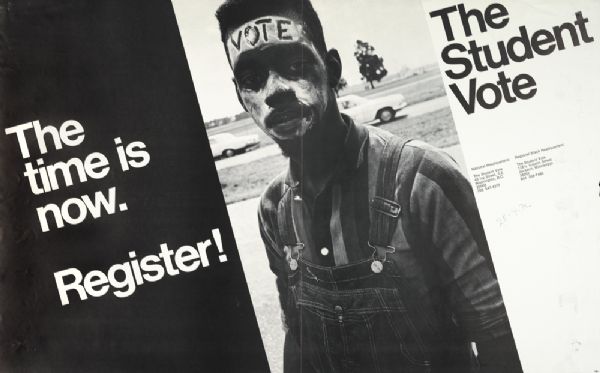 Poster Promoting Black Student Voter Registration, 1972
Madison, Wisconsin. View the original source document: WHI 58520
From the late 1960s through the mid-1970s, Madison, Wisconsin, was a hub of dynamic social, political and cultural change. The onset of countercultural ideologies, the Vietnam War, gay liberation and women's rights were among the issues that permeated the social landscape of the city. People formed groups, held meetings, distributed propaganda and organized demonstrations.
About the Collection
Between 1968 and 1972, Madison resident J. Wesley Miller gathered thousands of posters and flyers from kiosks and bulletin boards. He donated the entire 'Madison People's Poster and Propaganda Collection' to the Wisconsin Historical Society in 1973.
It includes everything from hand-drawn, black-and-white images to colorful prints that advertised a range of re-election campaigns, rock concerts, peace protests and viewpoints. A 1971 poster, for example, promoting the Survival Revival Women's Conference features an American flag-patterned castle in flames with a parade of women marching away under the words, "The Women are Coming." Another features a retouched portrait of then-Vice President Spiro Agnew dressed as a hippie, complete with fringed shirt, beaded necklace and peace sign earrings, while others promote appearances by musicians REO Speedwagon and Frank Zappa.
Miller described his collection best when he said, "The collection reflects the totality of student life and was being built as history unfolded."
The gallery consists of approximately 290 posters, primarily from locations in the Madison area.
An Eccentric Collector
J. Wesley Miller III was born in Springfield, Massachusetts, on October 3, 1941. He endured a rough childhood, which led to an eccentric adulthood. Miller was intelligent but unorthodox. He would often pit members of the press against each other, creating animosities that he personally enjoyed. Despite his oddities, those who knew him spoke of his serious academic attitude, which his professional status as an art lawyer reflected.
Miller received his bachelor's degree from Colby College in Waterville, Maine, and did graduate work at Harvard University and the University of Wisconsin. In 1981, he graduated from the College of Western New England Law School, passing the Massachusetts Bar the same year. He specialized in art law. He actively collected and cataloged "street literature" fliers and posters that reflected contemporary and social history. Miller was reported dead in September 2005; however, the exact date and cause of his death are unknown.
View the Gallery
Browse the Images