Field Trip or Tour
'Exploring the Encounter of Cultures' Field Trip
Madeline Island Museum
During this field trip to Madeline Island students will:
Gain a greater understanging of the Ojibwe and the critical role they played in the fur trade
Discover the daily life of fur trade voyageurs
Explore the Museum's unique collection of objects, each with a story to tell about Madeline Island
Enlarge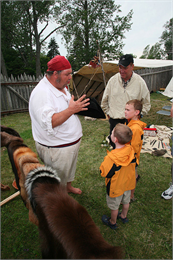 Madeline Island Museum in La Pointe, WI
Explore the fur trade through curriculum-based interactive learning stations that showcase Madeline Island as one of the most important places in Lake Superior regional history.
Program Details
Attribute
Description
Length
60-90 minutes
Availability
Weekdays, mid-May through early June
Maximum group size
60
Location
Madeline Island Museum, 226 Colonel Woods Ave, La Pointe, PO Box WI 54850
Lunch
Bag lunches may be eaten on the Museum grounds or at a picnic area on the lakeshore within walking distance of the Museum.
Grade Level
K - 12
Cost
$8 per student. Includes museum admission, round trip ferry boat transportation, and a local tour guide should the group bring their bus and wish to see other historic places on the island

Four free adult admissions per bus

$18.50 each additional adult admission
Reserve Your Field Trip
To reserve a field trip, call 715-747-2051 or email: ferryinfo@madferry.com.
About Madeline Island Museum
The Madeline Island Museum was founded in 1958 and interprets the culture and history of Madeline Island and the surrounding Lake Superior region.
Directions, Transportation, Parking
Get directions, ferry line information and more by going to the Madeline Island Museum Location, Directions, and Transportan web page.
Learn More
Learn more about Madeline Island field trips.