Organizational Description
About the Wisconsin Historical Foundation
2020 Annual Report
Mission
The Wisconsin Historical Foundation exists to advance the mission of the Wisconsin Historical Society: to help people connect to the past by collecting, preserving
Enlarge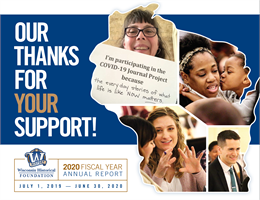 2020 Foundation Annual Report
and sharing stories.
Vision
We will work toward a future in which all individuals, families, communities and institutions actively use history to understand their own story and the world around them, and to pass their heritage on to succeeding generations.
About the Wisconsin Historical Foundation
The Wisconsin Historical Foundation, a 501(c)(3) tax exempt organization, receives grants and private contributions benefitting the Society and administers the membership program.
Get Involved
Support the Wisconsin Historical Society
Learn More
Have Questions?
Do you have questions about becoming a member or donating? We're here to help!
Contact the membership office at 1-888-748-7479 (toll free) or by email below: