Field Trip or Tour
Pendarvis Field Trip
Pendarvis - a historic site
While on this tour students will explore:
Early 19th century immigration and settlement in southwest Wisconsin.
Lead mining that stimulated the flow of immigrants.
The preservation of the site in the 20th Century.
Enlarge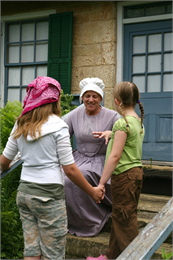 Pendarvis in Mineral Point, WI
Learn how Wisconsin lead mining surpassed the appeal of the fur trading and farming for 19th-century settlers.
Program Details

| Attribute | Description |
| --- | --- |
| Length | Field trips last from one hour to two-and-a-half hours |
| Availability | mid-May - late Oct |
| Maximum group size | No limit. Large groups are divided into sub-groups of 15 per group |
| Location | Pendarvis, 114 Shake Rag St, Mineral Point, WI 53565 |
| Lunch | Across the street from Pendarvis is a city park with free picnic shelters. To make reservations call the Mineral Point City Clerk at 608-987-2361 |
| Grade Level | K - 12 |
| Cost | $4 per student |
Reserve Your Field Trip
To reserve a field trip, call 608-987-2361 or email us.
About Pendarvis
Nestled on a rocky, wooded hillside, Pendarvis comprises six historic stone and stone-and-log cottages built by immigrant Cornish miners in the 1830s and 1840s during the Wisconsin Territory's lead-mining boom. Nearby Merry Christmas Mine Hill still bears the signs of early mining activity, and a 43-acre restored prairie reveals the unspoiled wilderness found by the first arriving settlers. The site is listed on the National Register of Historic Places.
Directions, Transportation, Parking
To get directions and parking information, see Location, Directions, Transportation to Pendarvis.
Learn More
Learn more about Pendarvis field trips.