Field Trip or Tour
'School Day in the 1930s' Field Trip
Reed School - a historic site
During this field trip students will:
Experience a one-room country school education.
Receive instruction from an interpretive teacher.
Participate in lessons from the 1930s.
Enlarge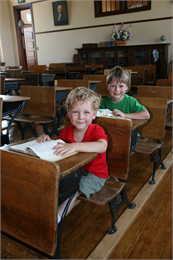 Reed School in Neillsville, WI
School groups should plan to spend four hours on site for an effective interpretive program, which includes interactive presentations, lunch and games.
Program Details
| | |
| --- | --- |
| Length | 3-5 hours |
| Availability | May 1 - Oct 31 |
| Maximum group size | 30 |
| Location | Reed School, Cardinal Avenue at US Hwy 10, Neillsville, WI |
| Lunch | Drinking water is provided. Bring your own lunch to eat in the classroom or outdoors in the picnic area. |
| Restrooms | Outhouses |
| Grade Level | K-12 |
| Cost Per Student | Reed School offers free admission Bus transportation may be covered by the Gordon and Helen Smith Foundation Endowment |
Reserve Your Field Trip
See the Reed School website to reserve your field trip. Or call 608-5253-3523 or email us.
About Reed School
Reed School, built in 1915, served as a one-room country school through 1951. It provided a first- through eighth-grade education with only one teacher. Reed School offers visitors a unique interpretation of country school life.
Directions, Transportation, Parking
Get directions, parking maps, and more see Location, Map, Directions to Reed School.
Learn More
Learn more about Reed School field trips.